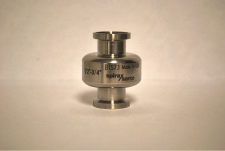 Blythewood, South Carolina (PRWEB) September 24, 2014
Spirax Sarco announces the BTS7.1 stainless steel clean steam trap constructed to withstand corrosion from clean and pure steam applications. The BTS7.1 is pressure rated to ASME standards and is designed to remove condensate from clean steam systems with minimal back up making it ideal for the pharmaceutical, biotechnology, and food and beverage industries.
The self-draining trap operates close to steam saturation temperatures, reducing condensate back up and effectively venting air ensuring full sterilization. Its smooth surface finish safeguards a free draining surface reducing the risk of bacterial growth and product blockage.
The BTS7.1 is available with a tri-clamp option which is suitable for both 1/2" and ¾" connections.
###
About Spirax Sarco, Inc.
Spirax Sarco is the world leader in steam system management. The Company provides a broad range of fluid control products, engineered packages, systems expertise and site services for its diverse range of over 100,000 industrial and institutional customers. The Company helps its customers to optimize production capacity, reduce energy costs and emissions, improve product quality and enhance the safety of their operations. Spirax Sarco has strategically located manufacturing plants around the world and employs approximately 4,700 people, of whom around 1,300 are direct sales and service engineers. Further information can be found at http://www.spiraxsarco.com/us.