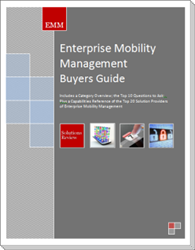 As mobile strategies become more complex so will the tools needed to provide management and security around those initaitives. That is where EMM comes into play.
Woburn, MA (PRWEB) September 24, 2014
Today Solutions Review is continuing to build the best online resource for Enterprise Mobility needs and information with the release of its Solutions Review for Enterprise Mobility Management (EMM) news site, providing the latest EMM solution updates, news, best practices and EMM topics.
Expanding upon the website's offerings Solutions Review has also released their 2015 Enterprise Mobility Management Buyers Guide. The Solutions Review team has compiled the top 20 EMM solution providers into an easy to digest guide providing IT professionals with all the critical information needed to start a search and identify the right solution for their needs. The free guide includes detailed vendor profiles, marketplace evaluations and the 10 questions you need to ask when evaluating solutions and determining you enterprise mobility strategies.
"The goal of Solutions Review is to help buyers of enterprise technology find the best possible solutions for today's mobility challenges," said Solutions Review Editor Matt Adamson. "Our EMM website presents best practices and industry standards around implementing such technology as we continue to see enterprises look towards more comprehensive solutions to manage and secure their growing mobile strategies. And with the Buyers Guide, our visitors can download much of that content in an easy to use PDF doc."
Top providers highlighted in the guide include: Absolute Software, AirWatch, Amtel, BlackBerry, Citrix, Dell, Excitor, Fiberlink an IBM company, Globo, Good Technology, Kaseya, Landesk, ManageEngine, McAfee, Microsoft, MobileIron, Sophos, SOTI, Symantec and Tangoe.
For IT professionals considering implementing an EMM solutions within their organization, Solutions Review for EMM is the best online resources for solution news, updates, best practices and vendor information. Additionally, the websites contain live and up to date twitter feeds, vendor blog rolls and an industry events calendar allowing visitors to stay abreast of all happenings in the Enterprise Mobility space. Everything from EMM solutions news and best practices to mobile enterprise security, application management, mobile device management and data management topics are brought together in one centralized hub of IT information to help those looking to solve business needs.
"We have seen a lot of consolidation in the mobile security space over the last few years and the result has been the creation of Enterprise Mobility Management," says Solutions Review founder Doug Atkinson. "As mobile strategies become more complex so will the tools needed to provide management and security around those initaitives. That is where EMM comes into play. With the development of Solutions Review EMM we are trying to help IT professionals navigate through some of those changes and new challenges."
Solutions Review continues to put a large emphasis on site neutrality. Rather than picking winners and losers in the EMM space the site presents all the facts regarding best practices and solution news allowing buyers to make an informed decision for their organization. "We feel that with the information presented on each site and the value offered in our Solutions Review Buyers Guides, we have developed a great source of knowledge for those trying to navigate a space that is truly opening doors for the enterprise," said Atkinson.
About Solutions-Review.com
Solutions Review is a collection of online news sites bringing the best technology news, opinions, social media, best practices and industry events together in one place for our readers. With a strong focus in the Enterprise Mobility, Big Data, Data Analysis and Identity Management sectors, Solutions Review is managed by a team of content experts and features original content along with a thoughtful aggregation of industry best practices and solution news. The site feature incorporate live social media streams including twitter and blog feeds along with an Events Calendar, a collection of relevant PowerPoint - Slide Shares and a hand-picked selection of online videos allowing seekers of technology solutions to make thoughtful and informed decisions.
Contact:
Matt Adamson
Solutions-Review.com
madamson(at)solutions-review(dot)com
339-927-9237