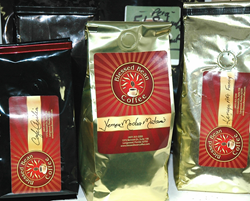 Orlando, Florida (PRWEB) September 24, 2014
The holidays are just around the corner, and premier coffee roaster Blessed Bean Coffee is now offering three appealing (and very affordable) options for corporate gifts for clients: customized coffee flavors, custom blends, and private labeling.
So, if clients like French Vanilla and Caramel – or Hazelnut and Irish Crème – or Chocolate and Amaretto, etc. – it is possible to create customized coffee flavors just for them, or simply as a very unique, tasty and personalized gift from a company or organization. Impressively, there are more than 150 possible combinations, according to Robie Leavitt and Phillip Poneleit, owners and partners of Blessed Bean Coffee (BBC). Among the many other enticing flavor options are Cinnamon, Pumpkin Spice, Dutch Apple, Blueberry, Butter Rum, Maple, Almond, and Strawberry Cheesecake.
Tailor the coffee even more by selecting the desired coffee beans by region, for a custom blend. BBC uses the highest-quality beans from around the world, with such choices as Columbia, Costa Rica, Guatemala, Brazil, Honduras, Jamaica, Ethiopia, Kenya, Zambia, Zimbabwe, Papua New Guinea, Sumatra, Yemen, and Hawaii. Each region produces beans with different characteristics. Blessed Bean Coffee's freshly roasted Columbian coffee, for example, is rich in flavor, heavy-bodied, has a bright acidity, and is intensely aromatic. Costa Rica's beans feature appealing and unique berry-like flavors, with distinctive nut-to-chocolate flavors. While BBC's Sumatra coffee is known for its low acidity, full body, and rich complex earthy tones. Also, one of BBC's most unique blends is called Café Maria, and it consists of beans from Central and South America, Africa and Indonesia, resulting in a very complex and enjoyable coffee with medium acidity. So, combining beans from different regions is yet another attractive option.
If so desired, it is also possible to create a custom name for the flavor and provide a private label for the coffee bags that reflects the distinctive company or organization.
That is just what nationally known artist, published author, and designer Linda Brandt of St. Augustine, Florida, recently did. She enlisted Blessed Bean Coffee to create a unique new flavor that featured the distinct taste of Blueberry Crunch Cake with a hint of Saigon Cinnamon. It was named "Madame Blueberry" in her honor, and featured her own private label.
Making it even more appealing, Blessed Bean Coffee is able to turn around orders very quickly, as they ship the same day the coffee has been roasted, to ensure the very, very freshest coffee. In Brandt's case, the "Madame Blueberry" recipe was perfected on Tuesday, roasted on Wednesday, and delivered to her on Thursday. That is big difference between Blessed Bean Coffee and the big brands' coffee found at grocery stores, as from the processing plant to the day of purchase, prepackaged coffees from supermarket shelves often exceed 90 days from roast to use.
Another important difference in the BBC brand is that they use a premium bag with a special vent hole that lets carbon dioxide escape without oxygen being allowed to enter. As the beans are shipped the same day the coffee is roasted, that vent is critical to keeping the bag from exploding.
As artisan coffee roaster Leavitt explained, "Few people are aware that freshly roasted coffee 'exhales' large amounts of CO2 for the first few days after roasting. The special vented bags allow for the release of this gas. Just as important, it does not allow the entry of oxygen, which is the death of coffee beans."
Yet another appealing holiday gift option is to provide clients with a Blessed Bean Coffee monthly coffee subscription, where the recipient will receive a selected coffee, or a variety of coffees, each month. This is a great way to stay top-of-mind with clients throughout the year.
Blessed Bean Coffee, LLC, is a faith-based company which is known for its signature premium blends that bring the superlative of "freshest" to a new benchmark for coffee aficionados. Clientele includes churches and other faith-based organizations around the country, restaurants, bookstores, companies, and individual coffee lovers. For more information on Blessed Bean Coffee, or its custom roasting/consultation, call (407) 353-2200, and visit http://www.blessedbeancoffee.com/ .