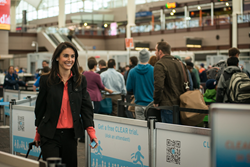 We are thrilled to launch CLEAR in Miami - a city focused on growth and innovation - said Caryn Seidman Becker Chairman and CEO of CLEAR.
New York, NY (PRWEB) September 24, 2014
CLEAR, a leading provider of secure biometric identity systems, announced today that its automated traveler service is coming to Miami International Airport. CLEAR's innovative platform transforms travel, bringing a fast and seamless customer experience for members.
"We are thrilled to launch CLEAR in Miami - a city focused on growth and innovation," said CLEAR CEO, Caryn Seidman Becker. "Miami International Airport serves more than 40 million passengers every year, a number that will continue to increase. CLEAR and Miami International Airport are both dedicated to creating the best and safest possible travel experience for residents and visitors alike."
"I am excited to begin this partnership with CLEAR. Bringing CLEAR to Miami is just another example of our focus on innovation and our dedication to bringing the best in technology to our city. CLEAR brings another level of innovation, security and customer service to the airport experience," said Carlos Gimenez, Mayor of Miami-Dade County.
Certified by the Department of Homeland Security as a Qualified Anti-Terrorism Technology, CLEAR uses biometrics (fingerprint and iris) to verify its members' identities. This technology enhances homeland security and expedites screening at major US airports across the country, ensuring CLEAR travelers average less than 5 minutes through airport security. CLEAR is integrated with TSA PreCheck at all of its locations.
"We look forward to soon offering CLEAR at MIA, which will provide an expedited screening experience to participating passengers by allowing them to get through the TSA checkpoint faster," said Ken Pyatt, Miami-Dade Aviation Department Deputy Director."
Travelers who sign up at a CLEAR airport location can enroll for a free 2 month trial. Corporate rates and family plans are available.
For a demonstration on how CLEAR works, view this video: http://vimeo.com/53687250
ABOUT CLEAR
CLEAR is a secure biometric identity company transforming the way people live, work, and travel. CLEAR currently operates at San Francisco, San Jose, Denver, Dallas-Fort Worth, Houston Bush, Houston Hobby, San Antonio, Orlando, and Westchester County Airport in New York. Along with Miami, Las Vegas will also join CLEAR's growing airport network with the opening of CLEARlanes at McCarran International Airport this fall. CLEAR has been used almost 2,000,000 times by travelers and has saved its members over 60,000,000 minutes.
CLEAR is currently expanding to bring its timesaving, secure, biometric technology to airports around the country and is integrated with TSA PreCheck in all CLEAR locations. CLEAR's biometric platform is scalable for other verticals including stadiums, universities, buildings and other venues focused on enhancing security and delighting customers.
For more information, visit clearme.com