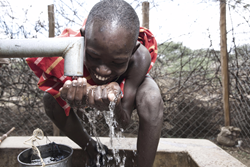 "The truth is water is education, empowerment, wellness, strength, sustenance and life; Together with The Samburu Project we are working to give water and give life to thousands of men, women and children." Andra Day
Santa Monica, Calif., (PRWEB) September 24, 2014
The Samburu Project announced today details for their 2nd Annual Splash Bash gala to be held on Sept. 27, 2014. The fundraising gala will be at a historic Santa Monica club in Downtown Santa Monica. The Samburu Project is celebrating 9 years of providing clean, safe and sustainable water for over 60,000 people in Samburu, Kenya.
"In Samburu, you always hear people say, water is life. It's hard to understand this living in California. Though we are suffering a terrible drought this year, people are not dying," said Kristen Kosinski, Founder of The Samburu Project. "Death due to water borne disease is an everyday occurrence in Samburu. The Samburu Project is doing something to change this."
The event will draw attendees from all over Los Angeles, for a night of cocktails, culinary creations by local restaurants, live musical entertainment, an array of silent and live auction items and a VIP after party.
Warner Bros. Records and Buskin Records recording artist Andra Day will give an encore performance, as she was one of the highlights of last year's event. The launch of her inaugural album coincides with this year's Splash Bash. Andra is also one of the faces of The Gap's #summerloves campaign. Warner Bros. Records and Buskin Records will sponsor the event.
"The truth is water is education, empowerment, wellness, strength, sustenance and life," says Andra Day. "Together with The Samburu Project we are working to give water and give life to thousands of men, women and children."
Jeanette Jenkins, workout guru and The Samburu Project partner, will be the Mistress of Ceremonies at the event. She has been an active advocate of the project since 2010, and donated her first well in her family's name.
Expected attendance is about 350 people, a mix of long-time supporters of The Samburu Project as well as many new faces with a VIP guest list that includes a wide array of people - celebrities, entertainment & music business executives and community leaders.
EVENT DETAILS:
WHAT: The Samburu Project 2nd Annual Splash Bash
WHEN: Saturday, Sept. 27, 2014 from 7:30-10:30 pm
WHERE: 1210 Fourth Street, Santa Monica, CA 90401
HOW: Tickets are available today at samburusplashbash (dot org)
Visit thesamburuproject (dot org) to discover more about the importance of clean water. When you give water, you give life.
Also visit us at Facebook, Twitter, YouTube and Instagram. Click to Tweet: Come to the #SamburuSplashBash Sept. 27 to #GiveWaterGiveLife. Buy tickets at http://www.samburusplashbash.org.
Special thanks to our sponsors: Kore Capital, AQUAhydrate, Buskin Records, Cîroc, DeLeon Tequila, The Dining Room LA, Downtown LA Printing, Giacomino Drago, Groundwork Coffee, Honest Tea, Lagunitas Brewing Company, Lemonade, Lynmar Estate, Martella Wines, Milk + Brookies, O.P.I, Rock Saké, Sam's by the Beach, Schaffer's Genuine Foods, ShopHouse Southeast Asian Kitchen, Slick Creative, Sprinkles Cupcakes, Warner Bros. Records, Whole Foods Market, Wolfgang Puck Catering.
About The Samburu Project: Since 2005, The Samburu Project has drilled 63 wells, bringing clean, safe drinking water to over 60,000 people with an additional 11 wells slated for 2014. With clean water, it becomes possible to impact other aspects of community life including education, healthcare, income generation and women's empowerment. With water, development happens.
About DDHPR: Founded in October 2010, DDH PR is a boutique Marketing and Public Relations firm catering to an eclectic roster of fashion, beauty, multicultural, non-profit, and artist clients.