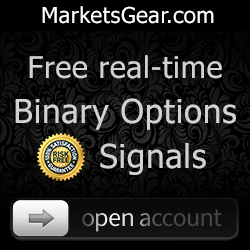 London, UK (PRWEB) September 24, 2014
MarketsGear has carved a niche in providing the most reliable and free binary options signals, which is a form of discretionary analysis that endeavors to inform and educate traders of the astounding trading opportunities, and prospects to place a trade utilizing the binary options. The goal of these free real-time binary options trading signals is to generate specific alerts that will be lucrative over the short and long span of time thereby keeping the risks under a strict control and initiating a prospect of high payouts and profits. A certainty of 100% is never declared however, that the signals will surely fetch profits, yet if the trader acts promptly after receiving the well-researched signal, a payout is surely received. MarketsGear is one such useful financial signals platform through which a high success rate is certain.
MarketsGear is committed to offering quality trading signals and comprises the industry's highest success rates in successful options expiry. An intermingling of fundamental, technical and statistical analysis are carried out to ascertain if a financial asset is poised to alter and generate a winning opportunity for traders. More than 80% of the active signals expire indubitably within the money, exhibiting a high win ratio. Signals act as a priceless tool and offer a trader the key to success. Free account registration is offered and that will enable you to obtain the trading signals today. As soon as the software detects a high probability trading prospect, a signal is released to the trader.
MarketsGear is the revolutionary financial signals platform which offers the most accurate market alerts. One of its primary distinctive features is that it's very easy to use, almost no experience is necessary - you'd find that trading has never been so easy! The provider is known for accurate forecasting, thus the win ratio is 80% or greater. Signals of MarketsGear are designed exclusively for binary options trading. Traders are entitled to real-time trading signals, so you once signed-up you can receive the markets movement alerts in real-time.
MarketsGear is reputed for its incredible features of forecasting, the reliability level is the expression (judged on a 10-point scale) of how powerful the anticipated trend is. As a trader, if you follow our signals on a daily basis then you are bound to attain a success. You can just sign up now and begin earning. The advanced technology is designed to work for you since the signals are created by means of most advanced algorithm systems across the world. Furthermore, you have an advantage of no spreads, commissions or added fees. The highly secure binary signals platform contributes to a trading experience that's one of a kind.
MarketsGear has a confirmed track record with greater than 2000 contented traders. The platform presents an utterly new level of trading prospects and benefits. Traders can sign up really fast and start receiving signals. It's extremely simple to use, even the traders who have no experience can handle it well. Win ratio is always 80% or higher than that. The real-time trading signals are devised and designed essentially for binary options and reveal an accuracy in forecasting. On the reliability front, MarketsGear makes use of advanced technology. The platform and its operations are highly safe and secure. Traders are not charged any commissions or fees. To top it off, they can receive multiple trading signals every single day. Enthusiasts of options trading can visit MarketsGear for more details and ensuring their success by signing up now.