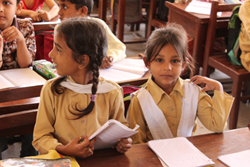 Pakistan's sizable youth population could be the nation's greatest asset – or its biggest liability
Washington DC (PRWEB) September 25, 2014
The bleak education system is at the root of many civic society problems in Pakistan: extremism, poverty, health and low economic output to name just a few. The challenges faced by girls just to go to school, the specter of terrorism through the growth of the Madrasas, the abysmally low 1.5% of GDP spent on education; these are all critical factors that must be urgently addressed.
In 2011, The Pakistan Education Task Force published a study stating the education emergency has "… disastrous human, social and economic consequences and threatens the security of the country."
The crisis has not improved; it has reached a tipping point.
Pakistan's sizable youth population could be the nation's greatest asset – or its biggest liability.
The Citizens Foundation (TCF) and the Wilson Center have invited leading experts to present and discuss concrete solutions to a problem that must be solved.
Presenters and Topics
Shahid Javed Burki, Chairman, Institute of Public Policy, Pakistan. "Right to Free and Compulsory Education Bill and Devolution: Impact on education reform."
Jumaina Siddiqui, US-Pakistan Program Fellow, South Asia Center, Atlantic Council. "How Pakistan's political parties are approaching education reform. Role of international donors, their interaction with political parties and provincial governments. Education Sector Plans of the Sind Government."
Ahsan Saleem, Director and co-Founder, The Citizens Foundation. "The TCF model: low cost quality education in formal schools."
Irfan Muzaffar, Researcher, Education & Social Research Collective. "School adoption as an option. Other forms of partnership. Growth of the low fee for-profit private sector."
Saad Rizvi, Senior Vice President, Pearsons. "The Punjab Education Reform Initiative. Lessons for the other provinces of Pakistan."
Dr. Liesbet Steer, Fellow, Brookings Center for Universal Education."The education reform experience in Bangladesh. Lessons learned."
Dr. Douglas Johnston, President/Founder, International Center for Religion & Diplomacy. "Madrasa Reform in Pakistan, successes, failures and the way forward."
Baela Raza Jamil, Team Leader, ASER Pakistan. Director, ITA. "Reforming the gender gap in Pakistan's education landscape."
The conference program will include Panel Discussion with Q&A
Media reception and press conference (4:00 PM) to follow the presentations. 'The Role of Non-profits in Pakistan's Education Reform.'
The conference agenda and speaker bios can be found at the Wilson Center website.
If you have any questions or media requests, please contact: David Gardner, PR Manager, TCF, +1 (310) 433 2392. David(at)DavidGardnerMedia(dot)com
````````````````````````````````````````````````````````````
THE CITIZENS FOUNDATION USA supports the building of civil society in Pakistan and promotes gender equality by providing quality scientific and balanced education for underprivileged children.
THE WILSON CENTER, chartered by Congress as the official memorial to President Woodrow Wilson, is the nation's key non-partisan policy forum for tackling global issues through independent research and open dialogue to inform actionable ideas for Congress, the Administration and the broader policy community.