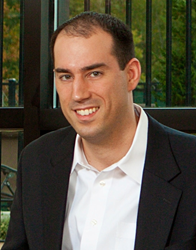 Apex, NC (PRWEB) September 23, 2014
September is Self-Improvement Month and Dr. Craig Dorion is helping patients better their oral health and appearance with dental implants and other implant dentistry procedures in Apex and Chapel Hill, NC. Patients who receive dental implants enjoy enduring health benefits, since implants stabilize bone density levels and function just like natural teeth. Implants can help patients avoid many of the health complications that would otherwise follow tooth loss.
Unlike many prosthetics, dental implants are anchored securely in the alveolar bone, where they have a stimulating effect. This stimulation prevents resorption, which is a process of bone deterioration that normally occurs after tooth loss. The maintenance of bone density levels ensures that patients do not experience changes in their facial structure or appearance. An implant can also prevent adjacent teeth from shifting into the gap left by a missing tooth. Unlike less secure tooth replacement options, implants allow patients to eat a varied diet, reducing the risk of malnutrition. Many patients also feel less self-conscious after receiving implants, since implants never move out of place, patients do not experience the embarrassing slippage of tradition dentures.
Implants are a suitable solution for many patients who have lost teeth. However, patients in Apex and Chapel Hill, NC, must have adequate bone density to support implant dentistry procedures. Patients who have experienced severe bone density loss may require a bone graft to be considered good candidates for dental implants. Patients with poor oral health may also require other treatments prior to receiving implants. Once a person is ready to receive implants, however, the implants can be placed in just a few stages. First, Dr. Dorion places the titanium implant into the alveolar bone. Then, the implants are given three to four months to heal below the gumline and fuse with the bone. Once the implants are securely anchored, Dr. Dorion uncovers them and attaches abutments and crowns to create fully functional replacement teeth.
Patients with missing teeth can learn more about implant dentistry and the procedures Dr. Dorion offers at All Day Dentistry in Apex and Chapel Hill, NC, by visiting the practice website. The doctor often advises patients to consider tooth replacements such as dental implants soon after tooth loss occurs, before bone density loss or other oral health complications develop. Patients who have lost teeth can schedule a consultation today by calling Dr. Dorion's office or visiting the practice website.
About the Practice
All Day Dentistry is a dental practice offering personalized dental care for patients in the Research Triangle Park area including Apex, Cary Chapel Hill and Raleigh, North Carolina. Dr. Craig Dorion completed his DDS at the University of North Carolina at Chapel Hill, where he continued advanced training with specialized focus in periodontics, dental implant surgery, and sedation in the Department of Periodontology at UNC School of Dentistry. He simultaneously completed a Master of Public Health degree in Health Policy and Management at the prestigious UNC Gillings School of Global Public Health Dr. Dorion belongs to the one percent of dental professionals currently providing the Laser Assisted New Attachment Procedure (LANAP®), the first FDA-cleared laser procedure for gum disease and periodontal treatment. To learn more about the dental services available at All Day Dentistry, visit http://www.alldaydentistry.com and call 919-636-3091.