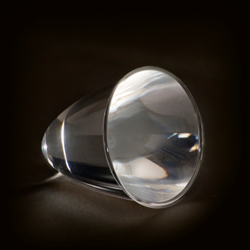 As the demand for LED lighting accelerates, moldable optical silicone materials will play a major role in the development of new high-performing LED lighting designs.
Germantown, WI (PRWEB) September 25, 2014
Ellsworth Adhesives, a global distributor of adhesives, specialty chemicals and dispensing equipment, is pleased to announce that they will be partnering with Dow Corning to sponsor a live and interactive webcast through LEDs Magazine called "Next Generation LED Optics from Dow Corning".
The event will be held on Wednesday, October 22, 2014 at 10:00am Central Daylight Time and will feature Jon Nelson, Dow Corning's Senior AETS Specialist, and Rich Turner, Ellsworth Adhesives' Engineered Sales Representative Lighting Specialist. Nelson and Turner will discuss the benefits of utilizing moldable silicone in today's LED optics design. After the live event the webcast will be archived, and can be viewed on demand. A PDF file of the presentation and an MP3 file of the audio portion will also be available for download.
"We're looking forward to this exciting event. It's a great opportunity for Lighting and LED manufacturers to learn about the latest Moldable Optical Silicone products available for the lighting industry" commented Roger Lee, Vice President and General Manager of Ellsworth Adhesives North America.
For additional information regarding the upcoming webinar visit LEDs Magazine:
http://www.ledsmagazine.com/webcasts/2014/10/next-generation-led-optics.html
or Ellsworth Adhesives' website at http://www.ellsworth.com.
To register for this event click: https://event.webcasts.com/starthere.jsp?ei=1042698&sti=source.
About Ellsworth Adhesives
Ellsworth Adhesives has developed a reputation within the industry for providing the distinct combination of excellence in distribution with the most comprehensive level of technical expertise available. Ellsworth Adhesives is a distributor of adhesive products and equipment. Ellsworth Adhesives is a value added supplier of adhesives, sealants, coatings, encapsulants, tapes, releases and lubricants from leading international manufacturers including 3M, Bostik, Dow Corning, Dymax, Emerson & Cuming, Fisnar, Henkel Loctite, Humiseal, Lord, Permabond, Sulzer, Techcon and many others and offers the most comprehensive level of technical expertise available. Ellsworth Adhesives operates sales offices and warehouses in the United States, Canada, Mexico, United Kingdom, France, Spain, Germany, Sweden, Denmark, Brazil, Australia, China, Malaysia, India, Vietnam, and Thailand. Ellsworth Adhesives can be contacted directly at 1-800-888-0698 or by visiting http://www.ellsworth.com.