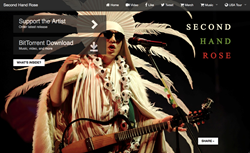 (PRWEB) September 24, 2014
Beijing-based Second Hand Rose, one of mainland China's biggest rock bands, announced the launch of a Torrpedo 'AWARE' BitTorrent campaign in support of their upcoming #UselessRockUSA Tour next month. The 2-week Northeast tour will follow their performance at the Modern Sky Festival in Central Park on October 5th and include shows in Boston, Philadelphia, Washington and New York, The Torrpedo's AWARE Campaign will place the #UselessRockUSA tour in front of the worlds most insatiable media consumers: mediavores with a ravenous appetite for engagement; sensationalists with an inherent desire to discover, experience and procure what's next, now.
#UselessRockUSA Torrpedo 'AWARE' Page - http://secondhandrose.torrpedo.com/
SECOND HAND ROSE #UselessRockUSA TOUR 2014

Tuesday, October 7 at Cafe 939, Boston, MA
Wednesday, October 8 Useless Rock Press Conference
310 East 44th Street, New York, NY

Thursday, October 9 "Useless Rock: Youth Culture in the PRC" lecture
China Institute, 125 East 65th Street, New York, NY

Friday, October 10 at Atlas Performing Arts Center, Washington, DC
Sunday, October 12 Red&Green Fashion/Film Screening, Ran Tea House, New York, NY
Wednesday, October 15 at Hard Rock Cafe, Philadelphia, PA
Sunday, October 19 at Webster Hall (Marlin Room)
125 East 11th St, New York, NY
The AWARE campaign will drive awareness by offering an exclusive torrent download bundle of high-quality media assets, including live video footage, music and photographs, while engaging these 'mediavores' with #UselessRockUSA ticketing as well as PledgeMusic crowdfunding campaign. Torrpedo will also geo-target city-specific banners through their network of online properties that reach 160 million users, helping to drive ticket sales for the tour.
"We're so pleased to have Torrpedo on board supporting the tour," said tour organizers Eric de Fontenay, President of MusicDish. "It's not just a matter of reaching this highly prized demographic of young music lovers, but we were particularly attracted by the ability to target users living within the tour itinerary."
About Second Hand Rose
Back in 2000, singer Liang Long and suona (a wind instrument) player Wu Zekun burst onto Beijing's underground music scene with a performance style that's part cabaret, part Chinese theater, and part rock 'n' roll dance party. The band eventually filled out to a six-piece and set itself apart from its peers with live shows that have something in common with the tongue-in-cheek provocation of bands like the New York Dolls and the Japanese style of Visual Kei. The shows feature elements of Peking Opera, folk tunes, and especially a stage tradition from China's northeast called Two Taking Turns, a playful, sexually charged form of verbal sparring between a male jester and female beauty. After more than a decade of winning over new fans around the country, earlier this year, Second Hand Rose played for a crowd of over 30,000 at the Strawberry Music Festival in Beijing, and last year they headlined a concert in Beijing's state-owned Workers' Gymnasium, one of the most prestigious venues in the country.
Facebook: https://www.facebook.com/2ndHRose
Twitter: http://www.twitter.com/2ndHrose
YouTube: http://www.youtube.com/user/2ndHrose
Bandcamp: http://secondhandrose.bandcamp.com/
About Torrpedo
Torrpedo reaches more than 160 million mediavores across a multitude of relevant online properties in key markets around the globe. Our advanced targeting ensures your brand engages with the audience you seek. Our intuitive placement means your campaign connects with the people most receptive to it. Torrpedo's audience is across-generational melting pot of tech-savvy, trendsetting individuals that consume digital media voraciously and spend their disposable income freely, on everything from music to movies, fashion to food, games, cars, travel and more.
http://www.torrpedo.com