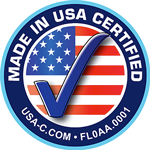 The Made in USA certified label promises that when you purchase a Thompson Creek window, you are supporting American jobs
Lanham, MD (PRWEB) September 24, 2014
Thompson Creek Window Company announced today that its windows have been officially certified as American-made. The certification – awarded by Made in USA Certified Inc. – followed a rigorous six-month supply chain audit, proving that the materials and goods used in Thompson Creek window manufacturing have been made in the United States. Thompson Creek Window Company is 1 of just 14 companies based in Maryland to be awarded such a certification and one of only 400 total companies nationwide.
"Supporting local businesses and the US economy is something we all strive to do, but too often, consumers are unaware of the true origin of the products they are purchasing. The Made in USA certified label promises that when you purchase a Thompson Creek window, you are supporting American jobs." said Rick Wuest, President and CEO, Thompson Creek Window Company. "Thompson Creek has been committed to using American made materials to fabricate our windows since the days when my family started manufacturing windows in 1980. Supporting American jobs and businesses is in alignment with our core values and we are pleased to receive recognition for this commitment."
Made in USA Certified, Inc. is the nation's leading third-party certification source and the only enterprise that audits a company's entire supply chain to guarantee company claims. The certification process creates much needed transparency, accountability and truthfulness in the marketplace for 'Made in USA' claims.
Thompson Creek Window Company provides more than 400 jobs in Maryland, supporting economic growth and guaranteeing a locally manufactured quality product.
About Thompson Creek Window Company
The Thompson Creek Window Company is a privately owned and family-operated manufacturer and installer of energy-efficient home improvement replacement products. Founded in 1980, Thompson Creek Window Company began as a manufacturer of energy-efficient, maintenance-free vinyl windows. Since that time, Thompson Creek Window Company has evolved into one of the leading specialty home improvement contracting companies in the nation. The company's product mix includes replacement windows and doors and a clog-free gutter system. Thompson Creek Window Company is headquartered in Lanham, Maryland with an 80,000 square-foot manufacturing facility in Landover, Maryland. Thompson Creek employs over 400 people in the Washington D.C. region.
About Made in USA Certified®
MADE IN USA CERTIFIED® is the only registered "Made in USA Certified" word mark with the U.S. Patent and Trademark Office and is the leading non-partisan, independent, third-party certification company for the "Made in USA," "Product of USA" and "Service in USA" claims. The USA-C™ seals show that a company bearing these trust marks has gone through a rigorous supply chain audit to verify compliance with national standards. Trust but Certify!™