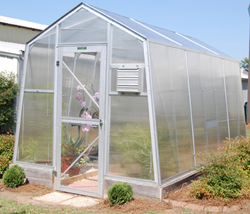 "We are very excited about this giveaway! Conserving nature, staying involved and invested in our community is very important to us." -Gary Smithwick, Old Waynesborough Park board member President Turner Greenhouses
Goldsboro, NC (PRWEB) September 24, 2014
One lucky gardener's plants will be warm and cozy this winter in a brand new Turner Greenhouse. Turner Greenhouses will take part in Bark In the Borough, Saturday, October 18, 2014 at Old Waynesborough Park by giving away a greenhouse. The winner, drawn at random, will receive 8 x 10 "Brightleaf" greenhouse kit with polycarbonate and polyethylene coverings. Entries are $5 a piece with no limit. Tickets may be purchased, up until the event, at Old Waynesborough and Turner Greenhouses. All proceeds go to the Old Waynesborough Park for programs, events and improvements.
Stop in to see a model of the greenhouse at Old Waynesborough's Visitor's Center and everything included in package. If you would like to see examples of full-scale greenhouses, Turner has three on display.
For more details please call Old Waynesborough Park @ 919-731-1653 or visit http://www.oldwaynesborough.org/.