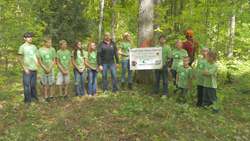 Sustainability has always been a priority for Connor Sports and this forestry event with Forest Park schools was developed to show the students the process of responsible forestry," said Jason Gasperich, Connor Sports Director of Sustainability
Amasa, Michigan (PRWEB) September 24, 2014
Connor Sports® hosted a "Making the Science Fun" sustainable forestry education event here today in partnership with the Forest Park (MI) School District to begin the production process for the custom court that will manufactured at Connor's mill in Amasa for the 2015 NCAA® Men's Final Four®.
The event at a nearby 2,000-acre hardwood forest owned by the school district focused on providing a fun way to learn about responsible forestry for more than 400 Forest Park K-12 students as part of the process of harvesting the timber for the official 2015 Final Four court.
Students visited a series of interactive field stations staffed by Connor Sports and other event partners, including learning about strategic timber selection as certified by the Forest Stewardship Council (FSC) and hand-cutting methods. Other "Making the Science Fun" partners include Connor Sports' Official NCAA Court logistics partner UPS and the Green Sports Alliance.
"Sustainability and sports have always been a priority for Connor Sports and today's educational forestry event with the Forest Park (MI) School District was developed to show the students the process of responsible forestry and how those methods and products will be used for the official NCAA court in Indianapolis at the 2015 Final Four," said Jason Gasperich, Connor Sports Director of Sustainability.
Educational stations included: hand cutting and tree selection; use of heavy equipment; impact of sustainable forestry on wildlife; cutting of logs into lumber; production of the court including a court panel similar to those used for the Final Four court; and the "landing" area where the cut logs are staged and prepared for transport to the sawmill.
Connor Sports Environmental Responsibility

In 2009 an independent environmental engineering firm audited and designated Connor Sports a "Zero Waste Company."
As a member of the Maple Flooring Manufacturers Association (MFMA, Connor adheres to the strict grading and quality standards of that organization.
Maple hardwood used in the courts is from a renewable resource, with the U.S. growing six times more hardwood than is harvested each year.
Connor recycles 99% of its waste material and offers wood that is Forest Stewardship Council-certified. The FSC mark represents products from well-managed forests.
Connor was the first MFMA member to be certified by the Rainforest Alliance, and is the only independently certified Zero Waste sports flooring manufacturer.
About Connor Sport Court International / http://www.connorsports.com
More athletic events are played on Connor Sport Court International surfaces than on any other sports flooring in the world. Founded in 1872, Connor Sport Court International has established themselves as the standard for professional and collegiate sports. Hardwood used in the courts is from a renewable resource, with the U.S. growing six times more hardwood than is harvested each year. Sport Court® is a registered trade mark of Connor Sport Court International. Since 1974, it has identified the original and authentic modular sport surface, continuously improved and patented to provide the highest levels of quality and performance. Connor Sport Court International is proud to be the only sports surfacing company in the world that is independently audited and verified as "Zero Waste" and fully ISO 9001:2008 certified.