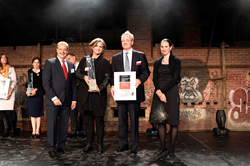 LOS ANGELES (PRWEB) September 24, 2014
Peter and Hadley Arnold of the Arid Lands Institute (aridlands.org/) at Woodbury University have received an Acknowledgement Prize from the Holcim Foundation for Divining LA, a digital tool for urban design and water-use planning in Los Angeles http://www.holcimfoundation.org/Projects/divining-la.
The Foundation announced the North America winners of this year's prestigious Holcim Awards in Toronto late last week. In the Foundation's words, the winning projects are at "the cutting edge of efficiency and innovation" in sustainable construction. The Holcim Awards Jury cited Divining LA as "a digital device with an ethical agenda." Award winners were selected from among 6,100 entries.
"As unusual as this entry might seem for a competition dedicated to construction, it is nonetheless commended as a construction technology by the jury for strategically reassessing storm water runoff in urban contexts," the Jury noted. "The jury specifically appreciates the proposal's value as a design tool – a digital device with an ethical agenda. Here, technology is used at its best, as a means to compile valuable data on the constitution of territories, to foreground and prioritize important information, and to raise awareness of site specific conditions for analysis and design. The proposal offers the necessary grounds to address water scarcity as both a technical and social matter of concern for all."
"The Holcim Foundation has been incredibly generous and thoughtful with its award-making," said Hadley Arnold, co-founder and director of the Arid Lands Institute. "We created a digital tool for urban design in water-stressed environments, using multi-spectral satellite imagery, digital terrain models and geotechnical datasets. Divining LA models precipitation, soil quality, land use, and groundwater contamination in a dynamic, publicly-accessible instrument for architects, landscape designers, and planners. The Acknowledgment Prize is a tremendous vote of confidence in our efforts and a new invitation to our constituencies to participate with us."
"Given Southern California's severe drought and the imperative to create both tools and policies to mitigate climate change globally as well as locally, recognition from the Holcim Foundation has the potential to engage others in our process in a very tangible way," said Peter Arnold, ALI co-founder. "ALI aims to maximize low-carbon localized water supply, reduce dependence on water imports, guide water-smart planning, and help direct public and private investment. Providing information on zoning and building policy, Divining LA is all about actionable results."
The Holcim Foundation selects and supports initiatives that combine sustainable construction solutions with architectural excellence and enhanced quality of life beyond technical solutions. Through the non-commercial promotion and development of sustainable construction at national, regional, and global levels, the Holcim Foundation encourages sustainable responses to the technological, environmental, socioeconomic, and cultural issues affecting building and construction. Promoting best practice, pioneering fresh solutions, and inspiring both established and the "next generation" of architects, engineers, planners, developers and contractors to adopt sustainable parameters for all their building projects are just a few of its ambitious objectives. The Foundation also conferred Acknowledgement Prizes for projects in Toronto, Seattle and Boston.
The International Holcim Awards competition recognizes innovative projects and future-oriented concepts on regional and global levels. They are designed to encourage architects, planners, engineers and project owners to go beyond conventional notions of sustainable construction in their work and to harmonize economic, ecological and social concerns. Projects and concepts in the fields of architecture, landscape architecture, urban design, civil engineering, mechanical engineering and related fields are eligible for entry in the competition. Each competition cycle spans three years, from announcement to completion and a total of $2 million in prize money is awarded.
The Holcim Foundation is supported by Holcim Ltd and its Group companies in around 70 countries and is independent of its commercial interests. Holcim is one of the world's leading suppliers of cement and aggregates (crushed stone, gravel and sand) as well as further activities such as ready-mix concrete and asphalt including services.
About the Holcim Awards
The Holcim Awards for Sustainable Construction competition seeks innovative, future-oriented and tangible construction projects to promote sustainable responses to the technological, environmental, socioeconomic and cultural issues affecting building and construction on a local, regional and global level. The competition has been run by the Swiss- based Holcim Foundation since 2004, and offers $2 million in prize money per three-year cycle. Further information on the competition and each winning project including high resolution images for download is available at: http://www.holcimawards.org.
About Woodbury University
Founded in 1884, Woodbury University is one of the oldest institutions of higher education in Southern California. Woodbury offers bachelor's degrees from the School of Architecture, School of Business, School of Media, Culture & Design, and College of Transdisciplinarity, along with a Master of Arts (MA) in Media for Social Justice, Master of Architecture (MArch), Master of Science in Architecture (MSArch), and Master of Leadership. The San Diego campus offers Bachelor of Architecture, Master of Real Estate Development for Architects (MRED), and Master of Science in Architecture, Landscape, and Urbanism degrees. Woodbury ranks 15th among the nation's "25 Colleges That Add the Most Value," according to Money Magazine. Visit http://www.woodbury.edu for more information.