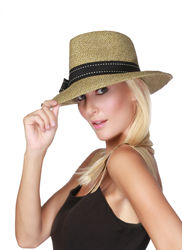 Sun hats provide important sun protection in the Fall
San Francisco, California (PRWEB) September 24, 2014
Though a sun hat may be viewed as a warm weather accessory, SolEscapes reminds sun-conscious consumers that wearing a sun hat in Autumn is not only important as sun protection, but is also an attractive addition to Fall ensembles.
As days grow shorter and the weather cools, it may seem that wearing a sun hat is unnecessary. However, sun protection is important year-round, and a sun hat is a key component in protecting one's face and eyes from potentially harmful UVA and UVB rays.
When picturing a sun hat, an image of a floppy straw hat or canvas bucket hat may come to mind: an image that fits well with a summery, beach environment, yet seems incongruous with Fall fashion. Luckily, there are plentiful sun hat options, many of which are right at home with Autumn ensembles. When choosing a sun hat to wear in the Fall, here are a few to consider:
Avanti is a fedora with a wide 3" brim. It has a classy wide ribbon trim, and its rich, deep purple color will mesh beautifully with Fall outfits. $37.50 by Physician Endorsed.
Pitch Perfect has a tweedy weave that works perfectly for Fall. Its asymmetrical brim adds interest, while the ribbon embellishment adds a touch of charm. It comes in several Fall-friendly colors such as black/natural, brown/natural and gold. $40.00 by Physician Endorsed.
Savannah has a fedora shape and an extra wide 4.5" brim. It's a straw hat with surprising drama. For Autumn outings, the black color is just right. $55 by Profile by Gottex.
Brixby will look charming with a cozy Fall outfit. Its cloche style is demure, yet coy. Its tweed weave and subtle colors make it an obvious Fall favorite. $40 by Physician Endorsed.
Rich Pitch is another fantastic fedora. The fedora style is timeless, and especially well-suited to Fall. The black tweed and navy tweed colors will fit in well with an Autumn wardrobe. $40 by Physician Endorsed.
Brookline provides the comfort of a cotton bucket hat without the slouch. The bucket profile is elevated with a wider 4" brim and a classy belted trim detail. The black hat with contrasting white trim is on trend for Fall. $40 by Physician Endorsed.
Sammy D is a favorite fedora that now comes in an Autumn-perfect natural/olive color. The lively stripes and jaunty shape add an exuberant touch to a cool weather outfit. $35 by Physician Endorsed.
Choosing a sun hat that blends into a Fall wardrobe doesn't have to be a challenge. SolEscapes offers these sun hats, and many others, that transition beautifully to Fall.
SolEscapes is a California-based online boutique offering a unique selection of stylish and practical sun, beach, and resort essentials for all warm weather needs. SolEscapes offers personalized service, high quality products and fast, affordable shipping. Merchandise, including all sun hats, is carefully and beautifully packaged to ensure a perfect arrival. For more information, please visit SolEscapes.com. You can also connect with SolEscapes on Facebook, Instagram, Twitter, and Pinterest.