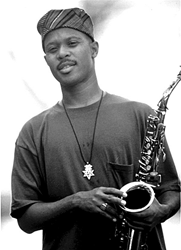 Santa Monica, CA (PRWEB) September 24, 2014
Coleman is the 8th Herb Alpert Award winner to receive a MacArthur Fellowship. Visual artists Carrie Mae Weems (1996 Herb Alpert Award), Kerry James Marshall (1997 Herb Alpert Award), and Pepón Osorio (1999 Herb Alpert Award), filmmaker Natalia Almada (2011 Herb Alpert Award), playwright Suzan-Lori Parks (1996 Herb Alpert Award) and composer/musicians George Lewis (1999 Herb Alpert Award) and Vijay Iyer (2003 Herb Alpert Award) are the other artists who have subsequently gone on to win the prestigious MacArthur prize.
Rona Sebastian, President of The Herb Alpert Foundation, said, "We are delighted to congratulate composer and musician Steve Coleman at this moment of special recognition. From its inception, the Herb Alpert Award in the Arts has supported exceptionally talented, committed risk-taking artists with both future promise and the potential to make a difference in their creative field and beyond."
Steve Coleman was selected as the Herb Alpert Award winner by pianist Ursula Oppens and composers Don Byron and Ben Johnson, the 2000 Music panelists.
Don Byron described Coleman: "Every time you hear him the work expands. He seems to expand all the time. He's an incredibly influential person and becoming more of an educator. He has 3 levels of mastery: jazz and funk and now he's doing something different. Cross-rhythms. The basic rhythms are more complex than they used to be. Even in the way he defines harmony is his own thing. He's become an idiom in himself. Above all, he's an artist who is not yet "finished" with what he is doing."
Receiving the Herb Alpert Award in 2000, Steve Coleman spoke about his own musical trajectory: "There have been at least two major streams of thought in this music that many people want to call "Jazz." There are those artists who seek to define their work in terms of a particular aesthetic that is already in existence. And there are others who are involved in an activity that, by its very nature, involves pushing a given form of expression beyond accepted limits. I call this latter position the "creative path" or "creative extreme" because this path is followed by very few, and is an extreme position. The creative extreme is also a tradition, and in the so-called Western nations this position has been occupied by people as diverse as Beethoven, Bartok, Parker and Coltrane. It is this tradition of the creative extreme that I choose to align myself with and, doing so, define this music as a living and growing form of expression."
The Herb Alpert Award in the Arts is an unrestricted prize of $75,000 given annually to five risk-taking mid-career artists working in the fields of dance, film/video, music, theatre and the visual arts. Now in it's 20th year, the Herb Alpert Award has honored and supported more than 100 supremely talented and challenging artists, allowing them the time and freedom to go further and deeper into their art. To make something of artistic integrity, something that matters in the world. Initiated and funded by the Herb Alpert Foundation, the prize has been administered by California Institute of the Arts since it's inception in 1994.