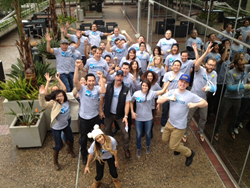 In the agency world, the quality of your team determines your success.
San Diego, CA (PRWEB) September 30, 2014
Over the past several years, San Diego has garnered recognition not only as America's Finest City, but also as a hub for exceptional digital marketing. With nationally recognized advertising campaigns being produced throughout the county, a spotlight has been focused on the growing San Diego market and the talent located in the area. Providing insight into the ever-expanding industry, San Diego Business Journal has released its annual list of Largest Advertising Agencies in San Diego County. Coming in at 3rd is international digital advertising agency, Geary LSF.
Geary LSF, boasting its largest office in downtown San Diego, is a full service digital agency helping brands develop and tell their stories with consistency through paid, owned and earned media. When asked what has attributed to the growth Geary LSF has experienced year-over-year, Executive Vice President of Sales and Marketing and San Diego General Manager, Cary Johnson, had the following to say. "In the agency world, the quality of your team determines your success. Over the past several years, we have worked hard to compile the very best teams in our field and develop the skills of our employees in order to provide the highest level of service to our clients." Mr. Johnson continues, "Our goal in all that we do is to not only meet, but exceed expectations. Our growth year-over-year, specifically in San Diego, is thanks to our team's commitment to achieving that goal."
In addition to the recognition by the San Diego Business Journal, Geary LSF was previously named the 25th largest search agency in the nation and the 3rd largest privately held agency in the nation by AdAge. The San Diego American Marketing Association also named Geary LSF the 2014 Marketer of the Year.
For more information about Geary LSF, their work and their services, please visit GearyLSF.com or contact a representative of the agency at marketing(at)gearylsf(dot)com.
About Geary LSF
Geary LSF is an integrated full-service online marketing group that uniquely optimizes the digital customer engagement path, delivering more results per campaign. It provides advertisers with comprehensive services from Strategy to Development, Media Planning to Placement, SEO, SEM, Analytics, Social, Local and Mobile media. Headquartered in San Francisco, the 200-people strong Geary LSF manages campaigns for more than 240 brands worldwide including: WD-40 Company, Bumble Bee Foods, MegaPath, Aramark, Ashley Furniture, Target, Club Med and several others. For more information, please visit http://www.gearylsf.com.