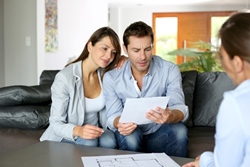 first-time buyers accounted for 29 percent of existing-home sales
Chicago, IL (PRWEB) September 23, 2014
Lenders like The Federal Savings Bank noted that existing-home sales dipped in August as investors had a weaker presence in the market compared to previous months, according to a recent report from the National Association of Realtors. Although the decline wasn't expected, the reasons behind it represent more opportunities for mortgage-dependent buyers to find a home as competition with investors who have all-cash offers becomes less evident.
"There was a marked decline in all-cash sales from investors," Lawrence Yun, NAR chief economist, said. "On the positive side, first-time buyers have a better chance of purchasing a home now that bidding wars are receding and supply constraints have significantly eased in many parts of the country."
There was a 1.8 percent month-over-month decrease for total existing-home sales in August, which include condos and co-ops, single-family homes and townhomes. Between July and August, the pace fell from 5.14 million units to a seasonally adjusted annual rate of 5.05 million units. Compared to August 2013, there was a 5.3 percent drop from a rate of 5.33 million units. Despite these declines, August still had the second-highest rate of existing-home sales for 2014.
First-time Home Buyers to Pick up the Slack
Yun's optimism about first-time buyers is shared by many housing industry analysts. One chief economist told Bloomberg on September 22nd novice buyer activity will increase as there are more overall gains in the employment sector. Yun has the same sentiment.
"As long as solid job growth continues, wages should eventually pick up to steadily improve purchasing power and help fully release the pent-up demand for buying," he said.
In August, first-time buyers accounted for 29 percent of existing-home sales, unchanged from July. They have held less than 30 percent of the market share for 16 of the past 17 months. Economists and real estate agents typically like to see a 40 percent to 45 percent share.
Although first-time buyers' activity has been slow, The Federal Savings Bank think's Yun and other analysts appear optimistic that the improving economy and looser lending standards will be the keys to an increase in their market share. Now may be a good time to buy because the level of all-cash sales accounted for only 23 percent of total existing-home sales in August, compared to 29 percent in July.
Contact the Federal Savings Bank, a veteran owned bank, for information about first-time home buyer programs that can provide financing while housing market competition wanes.