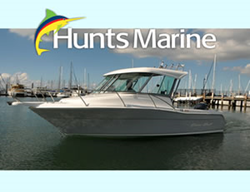 CruiseCraft Explorer hardtops cruisers simply make sense.
Sydney, NSW (PRWEB) September 25, 2014
As the summer boating season arrives, leading boating dealership, Hunts Marine, is pleased to announce the availability of the full range of CruiseCraft hardtop cruisers at their dealerships.
The new, more compact, CruiseCraft Explorer 595HT completes the range which also includes the CruiseCraft Explorer 625 HT and the range topping CruiseCraft 685HT.
In announcing the arrival of the new CruiseCraft Hardtop model Jon Hunt Director at Hunts Marine said, "There is absolutely no doubt that hardtop cruisers are the most popular design in cruiser boats at the current time and sales are only going to continue to increase in the coming years."
Continuing Jon said, "Hardtop cruisers simply make sense for the serious blue-water angler – a day's fishing becomes much more comfortable and enjoyable and the fishing season can be easily stretched into the cooler months. The hardtop offers greatly enhanced protection from the summer sun and that unexpected winter squall and the 595 has an optional sliding Perspex cabin door and slide-out canopy which provided additional protection and security."
"What attracts us to CruiseCraft boats and the Hardtop Explorer cruisers in particular is that they have been building quality leisure craft continuously since 1946 – the same year as Hunts Marine was established - and they are recognised as leaders in design and safety features across the entire range of their boats."
Looking specifically at the new 595HT model Jon said, "When you compare like for like the CruiseCraft hardtop boat stands out from its competitors, there is an exceptional use of space, including a large beam across the cockpit and innovative usage of the area between the gunwales. Importantly there is more than enough room for three hefty fishers to cast their rods from the stern of the boat."
"Safety is also integral to all CruiseCraft hardtop cruisers, in the 595HT the fibreglass construction is manufactured using a split mould technique and supporting the aft end of the structure are stainless steel supports which double as secure handholds. An electric windscreen wiper is standard for the toughened glass windscreen as are auto-retract trim-tabs fitted to the transom," Jon concluded.
The full range of CruiseCraft Explorer hardtops can be inspected at all Hunts Marine dealerships and fully trained staff will be able to provide assistance and further information on site.
Hunts Marine is one of New South Wales oldest and most respected marine dealerships. The family business was established in 1946 and has traded continuously since that date. In addition to the original Blakehurst dealership Hunts Marine has dealerships in Wollongong and Batemans Bay.
For further details contact Jon Hunt on 02 9546 1324 or visit http://www.huntsmarine.com.au