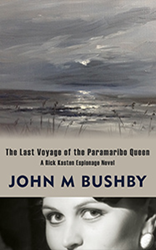 Rick Kasten is back!
Flanders, New Jersey (PRWEB) September 25, 2014
At last, fans of Rick Kasten will have a chance to follow his adventures as he travels into the heart of Nazi Germany and back across the Atlantic to defeat Hitler's cronies as the Third Reich attempts to keep America from helping Britain during the darkest hours of the Second World War. Kasten, who was introduced to the espionage genre in Shadow Soldiers as a reluctant hero in fighting Nazi tyranny is back on the scene and determined to exact revenge for the loss of his beloved Aurelia to Gestapo thugs. Carefully trained as a penetration agent in the United States, Kasten travels from New York to Lisbon, Berlin and then Paris. Eluding the grip of the Gestapo he makes his way out of occupied France and finds himself in an even more dangerous game on the high seas.
Back again are his friends, Nikko Meneges and Whit Knapp as they sail into U-boat infested waters looking to unravel the Kriegsmarine's secret plans to destroy US shipping in American home waters in the weeks leading up to Pearl Harbor. This book is available for Kindle readers and in paperback from Amazon.com.
This is the fifth novel by author John Bushby and the second in the Rick Kasten series set in the days leading up to America's entry into the Second World War. Bushby's first novel, Shadow Soldiers has been a critical success. He is also the author of the Harry Braham espionage novels, The Warszaw Express and The Rhinemaiden's Song. He is also the author of Prowler Ball, a semi-autobiographical novel of his experiences in flying from USS Enterprise against targets in North Vietnam.
John Bushby is a retired US Navy Lieutenant Commander. He has an MBA from the Wharton School and has had a long career in international banking and finance. He lives in Flanders, New Jersey.
Contact Information:
jbushby(AT)gmail.com
Further information can be found at http://www.johnbushby.com or on Facebook at John Bushby – Espionage Novelist.