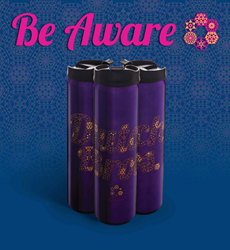 This effort is more likely to impact a friend, family member or neighbor than anything we can do.
Grants Pass, Ore. (PRWEB) September 25, 2014
The month of October, National Breast Cancer Awareness month, Dutch Bros. Coffee will be selling "Be Aware" travel mugs and donating proceeds to OHSU's Knight Cancer Institute.
Mugs cost $17 and include your Dutch Bros. drink of choice for free. For every mug sold, $5 will be donated, while supplies last.
"We are super stoked to support the work of the Knight Cancer Institute," said Travis Boersma, Co-Founder of Dutch Bros. Coffee. "My family, like so many, has been impacted by breast cancer. We are ecstatic about the progress and work of the OHSU Knight Cancer Institute."
Oregon Health & Science University revolutionized cancer treatment once and is poised to do it again by taking on the biggest unmet need in cancer treatment: finding smarter, foolproof ways to detect cancer early. OHSU's Knight Cancer Institute has launched an unprecedented $1 billion effort to transform early detection and save countless lives.
The $1 billion Knight Cancer Challenge was launched in 2013 after Nike Co-founder Phil Knight and his wife, Penny, pledged $500 million for cancer research if OHSU raised an equal amount by February 2016. The $1 billion investment will allow the Knight Cancer Institute to hire 20 to 30 top scientists and their teams to collaborate on improving methods to identify cancer at its earliest and most curable stage, and to move the most promising new detection methods and treatments from the laboratory to clinical trials as quickly as possible.
All Dutch Bros. locations in seven states will be participating. To find a Dutch Bros. near you, visit http://www.dutchbros.com/locations.
About Dutch Bros. Coffee
Founded in Southern Oregon in 1992 by brothers Dane and Travis Boersma, Dutch Bros. Coffee is the country's largest privately held, drive-thru coffee company. The company has nearly 200 locations in Oregon, California, Washington, Idaho, Nevada, Colorado and Arizona. Each store serves a large variety of specialty coffee drinks made with a premium, private three-bean blend and roasted fresh daily. Dutch Bros. Coffee was recently ranked by J.D. Power and Associates as highest in customer satisfaction compared to other coffee companies in its 2012 Specialty Coffee Retailer Satisfaction Report(SM). Dutch Bros. Coffee and its franchisees employ over 1600 people who all embody the Dutch Bros. philosophy of, "Love all, serve all."
Dutch Bros. Coffee gives back 1% of gross sales to the communities it serves. In 2011, the company donated more than $1 million to nonprofit organizations, including local food banks, the Muscular Dystrophy Association, American Cancer Society and Boys & Girls Clubs of America. Dutch Bros. Coffee is headquartered in Grants Pass, Ore. To learn more about Dutch Bros., visit http://www.dutchbros.com, http://www.facebook.com/dutchbros or https://twitter.com/dutchbros.
###
FOR MEDIA ONLY
Contact: Dan Buck/541.761.4884/pr(at)dutchbros(dot)com