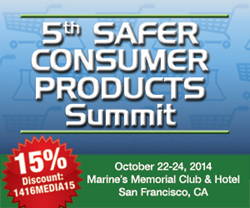 Los Angeles, CA (PRWEB) September 24, 2014
The California Department of Toxic Substances Control (DTSC) released its much anticipated draft Initial Priority Product Work Plan under the Safer Consumer Products Regulations on Friday, September 12, 2014. Seven Priority Products Categories have been identified: Beauty, Personal Care, and Hygiene, Building Products, Cleaning Products, Clothing, Household/Office Furniture/Furnishings, Office Machinery (Consumable Products) and Fishing and Angling Equipment.
The Work Plan is available online and a more comprehensive breakdown of the announcement by Bergeson & Campbell PC is available here. The DTSC is seeking comments on its Work Plan until October 13, 2014 and can be submitted using the California Safer Products Information Management Systems (CalSAFER).
Meredith Williams, California's Department of Toxic Substances Control (DTSC) Deputy Director of Safer Products and Workplaces Program, will be one of the keynote speakers at Infocast's 5th Safer Consumer Products Summit this October in San Francisco. Meredith will provide the latest on California's Safer Consumer Products Regulations, including updates on priority products and the three-year working plan. The three day summit will also focus on major brand owners, chemical companies and consumer industry associations and how they update corporate policies to remove chemicals of concern, understand how to respond to the Initial Priority Products Listing and network to establish key partnerships for further compliance.
Don't miss your opportunity to hear from the California Department of Toxic Substances, the United States Environmental Protection Agency, State Regulators, Brand Owners, Retailers and other key players in the new world of Safer Consumer Products!
For more information, to register, or to join us as a sponsor, visit the website at http://www.infocastinc.com/safer or contact Infocast at 818-888-4444.
About Infocast
For over 25 years, Infocast has produced the highest quality events, tailored to the needs of the industries we serve. We intensively research the marketplace, pulling from an extensive network of experts to give you the information and connections to succeed.