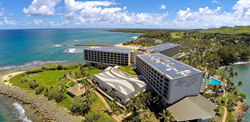 North Shore, Oahu, HI (PRWEB) September 24, 2014
Turtle Bay Resort has completed the installation of an innovative "green roof" that covers a total of approximately 60,000 square feet as part of its commitment to environmental sustainability.
"We are dedicated to preserving Hawaii's delicate and natural resources as stewards of the land," said Scott McCormack, Vice President of Real Estate for Turtle Bay Resort. "We have received positive feedback from our resort guests who appreciate the project's eco-friendly benefits and are enjoying enhanced guestroom views of the ocean and landscape art atop the newly designed roofs."
The lower flat roofs of Turtle Bay Hotel were completely transformed and "roof-scaped" with intricate, contemporary patterns using river rocks and native Hawaiian plants. The combination of this conservation project's size and detailed design makes the green roof unique to Hawaii and beyond. It was installed in partnership with Walters Kimura Motoda, Honolulu Roofing, Hui Ku Maoli Ola, and Firestone Roofing Products.
Enhancing Sustainability
Strategically placed to cover interior spaces, the green roofs help to reduce the amount of heat that is absorbed below, decreasing the amount of electricity that is needed for cooling. As a result, Turtle Bay Resort anticipates an increase in annual energy savings. In addition, the plant irrigation system is connected to moisture meters that will help to conserve water usage.
A variety of herbs and vegetables are also being grown on the roof in two open-air gardens. Turtle Bay Resort utilizes this fresh produce in the hotel's Kula Grille and Paakai restaurants as part of its farm-to-table initiatives.
Ocean-themed Landscape Art
In creating the artwork design, Oahu-based designer Walters Kimura Motoda was inspired by the beauty of the North Shore's alluring ocean waves.
The roofs that cover interior public spaces feature plants that thrive in a seashore climate – mostly native Hawaiian nehe (vine plant) and akulikuli (shorter, succulent grass), as well as bright green carex, or grass, and hardy, flowering sedum. These plants will require little to no maintenance once they are fully grown in about four to six weeks.
On the roof areas located further away from the hotel's upper structure, the pattern intermingles river rocks and sand featuring gray/blue and black accents.
Environmental Stewardship
Leading the charge in energy conservation and environmental stewardship, Turtle Bay Resort was the first major resort property in the state to install a solar photovoltaic (PV) system atop its roof. Completed in December 2013, the resort installed 1,578 panels on the highest roofs of Turtle Bay Hotel, which are now complemented by the green roofs. Prior to that, Turtle Bay completed a resort-wide retrofit that involved the installation of new LED and energy-efficient lighting fixtures and lamps. To learn more about Turtle Bay's green practices, visit http://www.TurtleBayResort.com/resort/green_practices/.
About Turtle Bay Resort
Turtle Bay Resort is the only destination resort on Oahu's fabled North Shore – Mecca of the surfing world. Situated on 852 acres, it offers outdoor enthusiasts five miles of beach and 12 miles of oceanfront hiking trails to enjoy and explore. This is in addition to 36 holes of championship golf and a wide array of ocean and land activities. All 450 guestrooms and suites offer ocean views and there are seven restaurants and bars to enjoy the cuisine, views and ambience of Hawaii. For more information, visit http://www.TurtleBayResort.com.