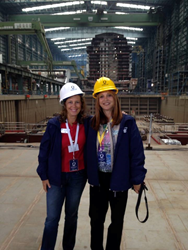 "This is one of the most amazing ships I've ever seen and I know our clients will love it," said Mysza of the Quantum of the Seas.
Montrose, CA and Miami, FL (PRWEB) September 24, 2014
Marking one of many Quantum-class firsts, Montrose Travel Co-President Andi Mysza joined Royal Caribbean International for an exclusive onboard preview of Quantum of the Seas, the most highly anticipated cruise ship in the industry to launch in November 2014. In an exclusive group of U.S. and Canadian travel partners and news media, Mysza joined Royal Caribbean's Senior Vice President of Sales, Trade Support and Service Vicki Freed to inspect the progress of the ship's construction at Meyer Werft shipyard in Papenburg, Germany.
Montrose Travel also was among the audience for the globally telecasted Quantum Technology Reveal, when Royal Caribbean Cruises Ltd.'s Chairman and CEO Richard Fain and technology expert David Pogue announced that Quantum of the Seas will be the first Smart Ship in the world. "This is one of the most amazing ships I've ever seen and I know our clients will love it," said Mysza of the Quantum of the Seas. "I'm most excited to be able to get a real internet signal at sea. Royal Caribbean has developed a game changer!"
Aboard Quantum of the Seas, Mysza had a chance to view some of the ship's never-before-seen-at-sea amenities, such as RipCord by iFLY, the first skydiving simulator on a cruise ship. Montrose Travel also visited the perch where NorthStar, a jewel capsule that takes guests 300 feet above the ocean for breathtaking views, will be installed within a few week's time. Mysza also surveyed Quantum of the Seas' cutting-edge transformative venues, including SeaPlex, the largest indoor sports and entertainment complex at sea featuring bumper cars, roller skating and more, and Two70º, a great room which will offer entertainment never seen before on land or sea, and where they took in a demonstration of the venue's six Roboscreens, each measuring more than seven feet high and controlled by powerful robotic arms.
"We are so glad to have Montrose Travel with us on this very special shipyard preview of Quantum of the Seas," said Freed. "Some of Quantum of the Seas' new experiences are so innovative that you have to see them in order to believe it. While the ship is only launching in late October, it's important that we offer our valued travel agent partners a chance to personally examine what they are selling in order to best help guide their clients on an unforgettable vacation with Royal Caribbean."
The Quantum Class spans 18 decks, encompasses 167,800 gross registered tons, carries 4,180 guests at double occupancy and features 2,090 staterooms. Quantum of the Seas launch in November 2014 at her New York Harbor homeport of Cape Liberty in Bayonne, N.J. More information on the Quantum class is available at http://www.QuantumoftheSeas.com. Media can find more details, images and videos at http://bit.ly/1q6Sn8G. Images are also available for viewing on Vicki Freed's Facebook page at http://www.Facebook.com/VickiLovesTravelAgents.
About Montrose Travel
Celebrating 56 years in business, Montrose Travel, a family-owned travel management company, has grown from 14 employees in 1990 to more than 200 today and is now firmly established as a Top 40 Travel Management Company and a Top 5 Host Agency nationwide at $200+ million in sales. Montrose Travel strives to provide the highest quality services and most complete vacation, corporate travel, loyalty and group travel management solutions for its customers and home-based travel agents. Montrose Travel "will be here tomorrow to back up our promises of today!" Montrose Travel can be reached at 1-800-MONTROSE (666-8767) or by visiting http://www.montrosetravel.com. Visit Montrose Travel's Corporate Division at http://www.montrosecorporatetravel.com or call 1-800-766-4687. Home-based independent travel professionals may visit http://www.MTravel.com, email epeters(at)montrosetravel(dot)com, or call 1-800-870-5799. CST#1018299-10
About Royal Caribbean International
Royal Caribbean International is an award-winning global cruise brand with a 45-year legacy of innovation and introducing industry "firsts" never before seen at sea. The cruise line features an expansive and unmatched array of features and amenities only found on Royal Caribbean including, jaw-dropping, Broadway-style entertainment and industry-acclaimed programming that appeals to families and adventurous vacationers alike. Owned by Royal Caribbean Cruises Ltd. (NYSE/OSE: RCL), the cruise line sails 21 of the world's most innovative cruise ships to the most popular destinations in Bermuda and the Caribbean, Europe, Alaska, South America, the Far East, and Australia and New Zealand. World renowned for its friendly and engaging Gold Anchor Service, delivered by every staff and crew member, Royal Caribbean has been voted "Best Cruise Line Overall" for 11 consecutive years in the Travel Weekly Readers Choice Awards. Travel professionals should go to http://www.LoyaltoYouAlways.com; call (800) 327-2056; and follow Facebook.com/VickiLovesTravelAgents.