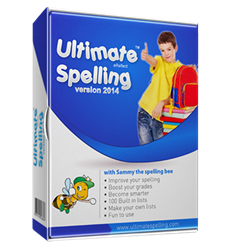 People do everything they possibly can to avoid common misspellings and typos...
New York City, NY (PRWEB) September 26, 2014
eReflect, developer of spelling bee software Ultimate Spelling™, uses its latest blog post to focus on the importance of spelling skills in content creation and marketing. In a blog post titled, "What Ruins Your Writing," the eReflect editors make a persuasive case that content creation is a far more demanding task than writers and bloggers tend to believe. People do everything they possibly can to avoid common misspellings and typos, notes eReflect, yet both somehow creep up and ruin their articles, blogs, infographics, and social media posts.
As the editors assert, it's important that people have a trained eye, otherwise it's very hard to identify misspellings, wrong word choices, and other grammatical issues in a piece of content they've written. While spellcheckers can flag many such mistakes, they're not 100% reliable, because atomic typos and misspellings often slip through. Some examples eReflect cites are the accidental substitution of the word "for" instead of "four", or mixing up the words "compliment" and "complement".
Spelling programs and vocabulary building software can be a worthwhile solution for writers and bloggers who find that they unconsciously ruin their otherwise good copy with grammatical mistakes over and over again, something the spelling software editors emphasize in their blog.
Such self-education programs let people truly analyze their writing practices by providing an interactive learning experience. For example, Ultimate Spelling™ allows people to increase their spelling skills, but at the same time they are able to improve their vocabulary and truly master that acquired vocabulary by using the important linguistic information provided by the software, such as definitions, visual interpretations of concepts, pronunciation, and more.
Thankfully, there are solutions to common content problems, and learning good spelling skills is just one of these solutions, concludes eReflect. If people want to improve their writing quality they need to first ensure that they have a command of language usage and a knowledge of grammatical rules. eReflect stresses the importance of error-free content, saying it's a valuable investment every business can make, because it improves the perceived authority and standing of a company as seen through its published content.
***********
For more information about how Ultimate Spelling software can improve spelling performance for you and your family, please visit the official website at http://www.ultimatespelling.com.
About Ultimate Spelling™
Ultimate Spelling provides a modern and easy to use spelling software that has been designed with one goal in mind – making children want to learn.
It is a fast and easy way to master even the most complicated spelling, without the need to write long lists or complete boring tests.
In fact, Ultimate Spelling provides more than just spelling help. It is a complete educational resource that boosts all level of a child's literacy.
Containing a personal computer tutor, Ultimate Spelling is the most realistic step-by-step guide to flawless spelling ability.