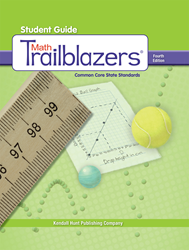 This is a curriculum that really has it all!
Chicago, IL (PRWEB) September 24, 2014
Kendall Hunt Publishing Company and UIC's Learning Sciences Research Institute announce the release of the fourth edition of Math Trailblazers, a comprehensive and coherent mathematics curriculum for students in kindergarten through fifth grade that has been revised to meet the challenges of the Common Core State Standards.
The fourth edition of Math Trailblazers, authored by the TIMS (Teaching Integrated Math and Science) Project at UIC, builds on its 25 years of research and success to help students become proficient in mathematics by actively engaging in solving problems. In a rich and motivating environment, students develop and use multiple representations to model their reasoning about math concepts, procedures, and complex situations.
Math Trailblazers also provides teachers with the tools and support needed to develop students' conceptual understanding of the mathematics content and practices outlined in the Common Core State Standards.
"We are extremely proud of the work our author and product development teams did to ensure that the fourth edition of Math Trailblazers provides educators with the content and tools needed to meet the learning objectives outlined in the Common Core State Standards," says Charley Cook, Kendall Hunt Vice President of K-12 Publishing. "The curriculum's strong research base and long history of success in classrooms both nationwide and around the world provided a firm foundation on which to build upon, and we believe we've made an already-strong program even stronger through the strategic use of technology, the integration of additional assessment tools, and a streamlined format that makes the program easier to implement."
Jennifer Leimberer, from UIC's TIMS Project, echoes Cook's belief in the strength of the program.
"We had an amazing and vast amount of information to guide our revisions for the fourth edition," says Leimberer. "We spent a great deal of time reviewing field test data, analyzing past editions, familiarizing ourselves with what the most current academic research says about how students learn mathematics, and getting to know the expectations set by the new Common Core State Standards.
"Philosophically, nothing has changed: Math Trailblazers still provides rich, meaningful contexts for students to develop mathematical understanding, strategies, and number sense while giving teachers the support they need to encourage students' learning, exploration, and growth. However, in addition to large-scale changes, like shifting units to align our content and learning progression to the Common Core standards, we also dedicated a lot of time to building supports for teachers, students and their families, and making our expectations more explicit," she adds.
Leimberer says the new edition of Math Trailblazers contains significant content revisions in the development of whole number operations and fractions. For example, students use and connect multiple representations to develop mental math strategies along with fluent procedures. Authors also revised geometry lessons to focus on reasoning and to ensure full alignment with the Common Core Standards.
Math Trailblazers, Fourth Edition also features a new assessment framework, designed to guide and differentiate instruction. An interactive Student Guide and Reference section also provide families with resources, tools, and examples to support students as they learn a variety of mathematics strategies.
"At a time when educators nationwide are focused on elevating both student performance and student interest in STEM disciplines, Math Trailblazers provides the rich, rigorous, and engaging content needed to meet both Common Core and local learning objectives," Cook adds. "As many of our current users have told us, this is a curriculum that really has it all."
###
About Kendall Hunt:
Kendall Hunt develops high-quality, research- and inquiry-based curriculum solutions that meet educational standards and integrate the appropriate use of technology as a learning tool. It also provides continuing support to educators through customized professional development programs designed to provide strong support to teachers and fully engage students in the classroom and at home. For more information, visit kendallhunt.com/prek12.
About the TIMS Project:
The Teaching Integrated Mathematics and Science (TIMS) Project focuses on developing tools and practices that engage learners in quantitative reasoning and modeling. It is a project of UIC's Learning Sciences Research Institute. LSRI (http://www.lsri.uic.edu) is an interdisciplinary research institute on the campus of the University of Illinois at Chicago. LSRI researchers work to identify and solve critical K to 16 learning and instructional challenges in literacy, mathematics, science, and the social sciences. Its researchers design and test innovative interventions, models, tools and technologies to support teachers and students in implementing 21st century learning environments.