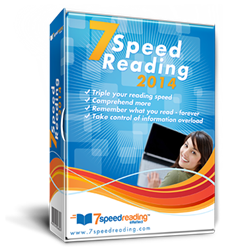 The art of speed reading requires a person to be profoundly focused...great amounts of attention and cognitive effort are necessary.
New York City, NY (PRWEB) September 27, 2014
eReflect, developer of 7 Speed Reading™ software, hopes to raise awareness of the benefits of speed reading with its latest blog post, "Speed Read Books And See How It Affects Your Life." In this blog post, the editors of eReflect outline the ways speed reading can improve a person's professional and personal trajectory through life.
With speed reading courses using software or online, people can learn to speed read and reap benefits such as fast knowledge acquisition. Knowledge is power, and constant learning is something that lets professionals stay ahead in their field while still having more free time they can devote to keeping the quality of life they need. Saving time by learning to speed read also lets these professionals spend time in family activities, brainstorm new ideas with colleagues, and work towards perfecting the skills they need at work and in the personal lives.
Speed reading, as eReflect emphasizes, is something that also nurtures a person's empathy towards others and cultivates their emotional intelligence, a skill essential in both raising a family and having a team of confident, productive staff. Increased empathy and emotional intelligence in general allow people to proactively prevent disastrous scenarios and ensures people are perceptive enough to understand and meet others' needs.
Self-discipline, changing personal mindsets, and having a good companion always at hand are three other benefits that the eReflect editors point out. The art of speed reading requires a person to be profoundly focused, since in order for the reader to speed read through content and process and still understand what's being read, great amounts of attention and cognitive effort are necessary.
7 Speed Reading™, one of the best speed reading programs in the world according to several reviewers, can help people empower themselves through knowledge acquisition and help them improve their overall mental functioning and do better in any given cognitive activity. Speed reading has the potential to improves a person's life comprehensively. Whether looked at from a cognitive, social, interpersonal, or professional aspect, speed reading is the one key skill to asserting a brighter future, concludes eReflect.
************
For more information about the benefits of using 7 Speed Reading, please visit the official website at http://www.7speedreading.com.
About 7 Speed Reading™
7 Speed Reading is the only modern speed reading software that uses the latest technology to produce superior results.
The software provides its users with a new way to master speed reading that guarantees three times the reading speed along with improved memory and comprehension.
The software is poised as the most comprehensive speed reading system anywhere. It contains seven learning strategies, fifteen software activities, video training, advanced tracking capabilities and many more exciting features.