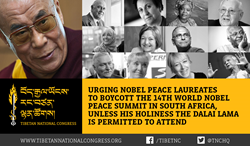 We call for the World Summit of Nobel Peace Laureates to be relocated to a more appropriate venue, because the world needs this summit and no authoritarian government should be allowed to control it by censoring which voices gets heard
(PRWEB) September 24, 2014
In a growing reaction against South Africa's decision to bar His Holiness the Dalai Lama from the upcoming 14th World Summit of Nobel Peace Laureates, scheduled to be held October 13-15 in Cape Town, four Nobel Peace Laureates (Jody Williams, Shirin Ebadi, Leymah Gbowee and the International Campaign to Ban Landmines) have declared that they will boycott the event in response.
The Tibetan National Congress (TNC), an independent Tibetan political party, has launched a global campaign urging the Nobel Laureates to either boycott or relocate the summit to a venue more compatible with the Nobel Peace Prize's ideals of open and inclusive dialogue, unless the South African government reverses its decision to bar the Dalai Lama.
The South African government, acting under pressure from the People's Republic of China, has refused to issue a visa to the Dalai Lama to allow him to attend. Fourteen Nobel Peace laureates have issued a letter to South African president Jacob Zuma stating their deep concern over this action. The Mayor of Cape Town, Patricia de Lille, wrote that the visa was denied "due to sensitivities related to the Chinese government," and called her government "Disingenuous on the Dalai Lama visa issue".
TNC is leading a global campaign urging the Nobel Peace laureates invited to this summit to take a unified stand to forego attendance unless His Holiness the Dalai Lama is permitted to attend. A petition, translated into 12 different languages, has over 7000 signers including renowned Chinese dissidents Hu Jia and Wen Yunchao; Vietnamese dissident Professor Đoàn Viết Hoạt; writers Tsering Woeser, Paola Maugeri; Members of Parliament Elisabeth Naucler (Finland), Brigitta Jónsdóttir (Iceland), Senator André Gattolin (France), Cheri DiNovo, Peggy Nash, Bernard Trottier (Canada); prominent international lawyers Teng Biao, Alan Cantos, José Elías Esteve; numerous leading Bollywood actors; and famed musicians Franco Battiato, Freddy Lim among others.
"We call for the World Summit of Nobel Peace Laureates to be relocated to a more appropriate venue, because the world needs this summit and no authoritarian government should be allowed to control it by censoring which voices gets heard," said Jigme Ugen, the President of TNC. "His Holiness the Dalai Lama is recognized internationally as a leading proponent of peace and interfaith dialogue; this summit needs his voice. We also believe that the summit will be irreparably tainted by accepting and implicitly endorsing the bullying tactics of the Chinese government, the only regime in the world currently imprisoning a Nobel Peace laureate."
"In order to preserve the reputation of the Nobel Peace Laureates summit, and in order to ensure that the essential message of His Holiness the Dalai Lama is included, the only credible solution is to hold the summit in a country whose government will stand for the principles of freedom and openness," said Ugen. "That is why, unless South Africa reverses its decision to bar the Dalai Lama, the summit must be held elsewhere."
MEDIA CONTACTS:
English: Jigme Ugen +1 (612) 812-5846, jigmeugen (at) gmail (dot) com (Minnesota, USA)
Tibetan: Ganzey Tshering +1 (781) 502-8423, ganzeyt (at) gmail (dot) com (Boston, USA)
French: Tenam +1 33 (0)6 33 69 90 99, tenams (at) gmail (dot) com (Paris, France)