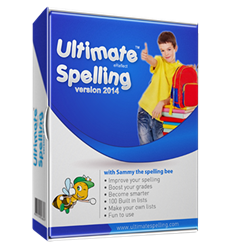 ... offer people the best available technologies to improve their language skills.
New York City, NY (PRWEB) September 30, 2014
Spelling program Ultimate Spelling™, produced by eReflect, was praised by the Top Ten Reviews editors in their recent assessment of the program's capacities and features. Ultimate Spelling, a spelling bee software for children and adults, is a fun-to-use program that offers a wide range of learning opportunities, according to Top Ten Reviews.
The editors were particularly impressed by the number of words available as well as the program's cutting-edge features, including progress tracking and reliable user support. eReflect thanks Top Ten Reviews for their positive review of Ultimate Spelling™, reassuring both existing and new users of Ultimate Spelling™ that the company will continue to improve upon its software in the future. The company's goal is to offer people the best available technologies to improve their language skills.
Top Ten Reviews have placed Ultimate Spelling™ at the #1 spot, ahead of popular spelling software products Spelling Made Simple and Spelling Blaster. The editors gave Ultimate Spelling™ a 9.88 total rating after evaluating against the following criteria: Features, Resources, Progress Reports, and Help & Support.
eReflect's program, which contains an over 160,000 word database and has features like thorough progress monitoring and reporting tools, made Ultimate Spelling™ stand out from the competition.
Ultimate Spelling™ offers tracking tools like scores and bar graphs, and detailed lists of non-mastered words as well as a "Mark as Mastered" feature, so that users can have a clear idea at any given point during their spelling practice as to how much progress they've made. The only limitation TopTenReviews mentions about the program is the absence of a storyline, but other than that, their conclusion is that its variety of spelling activities, games, and feature-rich content ensures learning to spell is a compelling experience for spellers of any age.
The fact that the program is not only kid-friendly but useful for adults and ESL learners helped Ultimate Spelling™ secure the first place in the Top Ten Reviews of spelling software, as the eReflect representative points out. Spelling help is not the only aspect of language eReflect caters to, and the company also provides self-education programs on keyboarding, vocabulary, and speed reading, to give customers a full range of language-related skill builders.
***********
For more information about how Ultimate Spelling software can improve spelling performance for you and your family, please visit the official website at http://www.ultimatespelling.com.
About Ultimate Spelling™
Ultimate Spelling provides a modern and easy to use spelling software that has been designed with one goal in mind – making children want to learn.
It is a fast and easy way to master even the most complicated spelling, without the need to write long lists or complete boring tests.
In fact, Ultimate Spelling provides more than just spelling help. It is a complete educational resource that boosts all level of a child's literacy.
Containing a personal computer tutor, Ultimate Spelling is the most realistic step-by-step guide to flawless spelling ability.