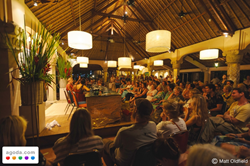 Agoda.com rounds up great hotel deals for the Ubud Writers & Readers festival, one of the world's leading literary and creative events in one of the world's top tourist destinations.
Singapore (PRWEB) September 24, 2014
Agoda.com, one of Asia's leading hotel booking sites and part of Nasdaq-listed Priceline Group (Nasdaq:PCLN), has identified a list of hotel specials to welcome travelers to the Ubud Writers & Readers Festival in Bali, one of the world's leading literary and creative events.
From Pulitzer Prize-winning authors to local storytellers to fans who love nothing more than to lose themselves in a good tale, the festival is a must for any creative spirit. Since its inception in 2003, the festival has been known for its diverse lineup, gorgeous location, and focus on the camaraderie within the writing and arts community. There is also more to it than just literature – discussions on film, music, dance, history, the environment, and even politics are scheduled. This year the event will be held from 1-5 October.
Ubud is a natural choice to hold a festival of this kind. Long considered the center of Bali's colorful artistic culture, the area is a living monument to creativity. Whether you are looking at temples, gardens, palaces, or galleries, Ubud has something to impress in all areas. Following last year's theme Through Darkness to Light, the festival this year has been set up to honor Saraswati, the Balinese Hindu Goddess of learning, under the theme Wisdom & Knowledge.
The program this year will bring together some of the world's leading voices from across the entire spectrum of the arts. Celebrated names such as travel writer Colin Thubron, filmmaker Rolf de Heer, surf legend Rusty Miller, and exiled Iraqi writer Hassan Blasim are some of the featured guests. Other events include discussions on mythology in the modern world, what it means to be a custodian of an ancient culture, the ethics of accurately writing about a people and their place, and the challenges of writing in the face of quickly changing languages and narrative styles. Many other lectures and discussions are planned across a variety of topics.
Beyond the arts and culture lies another reason to attend the festival, and that is Bali itself. As one of the world's top tourist destinations, its white beaches, blue water, and lush green interior present an unforgettable backdrop for anyone wanting to relax in one of Asia's most awarded settings.
No matter if you come to read, write, listen, talk, or relax, this year's festival promises to be an unforgettable event in an unforgettable location. To see the great hotel deals that Agoda.com has prepared, visit their press center here: http://press.agoda.com/news/2014/9/24/agodacom-lines-up-deals-for-the-ubud-writers-readers-festiva.html