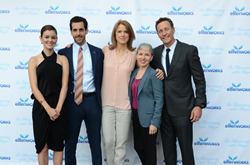 Burlingame, CA (PRWEB) October 03, 2014
The Elfenworks Foundation announced the recipients of the 8th Annual In Harmony with Hope Awards: a group of social entrepreneurs who are providing inspiration, hope, and solutions for our country's youth in the areas of youth service, music education, and youth democracy programs. Last evening's celebration had a Cooking Up Hope theme, as honorees were presented with individual cash prizes of $25,000 at the Kohl Mansion in Burlingame, CA. For the fourth year, Wells Fargo contributed $10,000 in support of the program. The event featured special guest Mistress of Ceremonies actress Nora Zehetner and musical guests the Jonny Shorr band, winner of the 2014 Elfenworks / Campus MovieFest Social Justice Award.
The 2014 In Harmony with Hope honorees are as follows:
-- Margaret Martin, DrPH, MPH, Founder of the Harmony Project, an organization that brings quality music instruction and ensemble playing to children in under-resourced communities year-round.
-- Scott Warren, Co-Founder, Executive Director of Generation Citizen, an organization that is closing the civic engagement gap with high-impact action civics programming for teens in under-resourced areas.
-- Jim Ziolkowski, Founder, President and CEO of buildOn, an organization that is building hope by breaking the cycle of poverty, illiteracy, and low expectations through service and education.
For more information on the 2014 In Harmony with Hope Award winners, visit the Elfenworks Foundation at http://www.elfenworks.org or email binay.curtis@elfenworksfoundation.org.
About Elfenworks: The Elfenworks Foundation works for hope in America by fostering creative and technology solutions that advance change. Elfenworks identifies chasms, creates change, and amplifies success through projects and partnerships that share one common goal: helping hope grow. Elfenworks fosters thousands of student social justice filmmakers and musicians in partnership with Campus MovieFest. The Breathing Butterfly program helps kids cope with toxic stress. Elfenworks is located in Burlingame, CA.