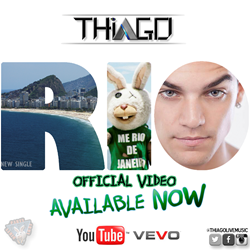 New York, New York (PRWEB) October 09, 2014
After much anticipation, Thiago's hit single "Rio" makes its music video debut on the highly viewed platform, Vevo. This debut comes on the heels of Thiago's highly successful release event held recently at the Harman Store in NYC, owned by Harman International, a global leader in audio and infotainment. Thiago was invited to host his release event at the Harman Store as part of their Soundcheck™ Series.
As the buzz continues to build, Latin television's major network Telemundo invited Thiago to appear on their super popular entertainment news show Acceso Total, New York for a live interview. The single / video release has also gained the attention of The CLIO Awards, which invited Thiago to perform for their after-party.
With just nine days following the YouTube release of the "Rio" music video trailer, Thiago has received an overwhelming response from fans longing for the debut of the official video. Given the title of the single "Rio," it was only appropriate that the video be produced and filmed in Rio De Janeiro, Brazil. During the course of one week Thiago and his Dirty Party Army | DPA, covered the streets of Brazil with energy, sex appeal, and excitement. The video is filled with alter egos, great cinematography, beautiful women, and amazing scenery. This short-film style music video motivates its viewers to inject a little fun in their lives while being entertained by Thiago's infectious performance. This eventful video exudes excitement as Thiago and his alter ego Bunny rip thru the streets of Rio De Janeiro enticing locals to sing eo, eeeo, eeeeeo. Yes! there is a bunny, but fans will have to see the video to satisfy their curiosity. The "Rio" music video was executive produced by Jose Cabezas, Dirty Party Army and the multi-talented artist 'Thiago
Overall, Thiago and his single "Rio" have become a growing movement that encourages everyone to look within to find their alter ego, let their hair down, and enjoy the festivities. Such energy was shared with fans and Press at the HARMAN Flagship Store located on 527 Madison Avenue in NYC, where Thiago hosted his single/video release party on Tuesday, September 30, 2014. Other brands were in attendance, such as Latin American food giant Goya, who joined in the fun and served Thiago's guests with their tasty snacks. Plum Radio, an innovative streaming radio service, was there to provide music and Xs Energy Drink by Vanadio Intl. fueled excitement to all that attended such a festive event.     
Interest from brands in the U.S. mirror Thiago's success in Latin America where Australian-based cinema king The Hoyts Group placed Thiago's single "Rio" in their Argentinean national ad campaign. Today you can hear "Rio" in all the theaters across the largest Argentinean Cinema Chain, Hoyts Cinemas. 
With all these brands and advertisers joining in on the Thiago movement, it's no surprise that the world's most recognizable advertising awards show, The CLIO Awards invited Thiago to perform at their after party following their 55th annual award show on October 1, 2014.     
Even Latin Television major network Telemundo is spearheading the media side of this movement and invited Thiago to appear on their highly viewed news show Acceso Total NY Fans can catch Thiago's live interview and videos of his exclusive performance of his release party on his Youtube channel thiagolivemusic. 
"Rio" is still available for fans to listen for a limited time on Thiago's Soundcloud (http://www.soundcloud.com/thiagolivemusic) or for purchase on iTunes, Amazon, Spotify and many other digital retailers. For more information and updates log on to Thiago's official website,  http://www.thiagoLive.com, Like Thiago on http://www.facebook.com/thiagolivemusic, follow him on Twitter, and Instagram @ThiagoLiveMusic.