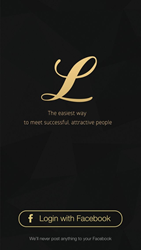 New York City, New York (PRWEB) September 25, 2014
Women and men who are interested in meeting the most successful and attractive people in their own area are already using Luxy, the iOS application currently adding new levels to the world of social networking. Recently, Luxy was upgraded to a 2.0 version which is now accompanied by a brand new feature called "Moments". By selecting this feature, users are given opportunities to share photos, as well as their own special life-moments directly with other users logged into the application.
While "Moments" is the very latest specialty made available to Luxy's users, an earlier version of the application already introduced a rather unique feature called "Play". With a quality designed to make it feel like a fun game, this feature is just part of what makes Luxy stand out from all other social applications created for adults who are looking for real personal connections. With "Play", women and men have the option of 'liking' someone or 'passing' on them while being kept completely anonymous. 'Likes' that are reciprocated, however, result in both users receiving a notification that a potential match has been located for them. Members are then encouraged to take their mutual interest to the next level and begin communicating with one another more directly.
Developed by OnLuxy.com, the Luxy application is currently only available for iOS devices, but its Android version is coming soon in September. With access to friends and friends of friends, it uses Facebook to verify identities as well as to assist individuals in making new connections. The app's goal is to provide a safe way for people to meet and get to know one another in a unique, anonymous and interesting way.
Luxy only uses a person's Facebook information to help facilitate connections. It does not ever post "Moments" or any other information to a user's actual Facebook timeline, which helps in keeping interactions as private as possible. After downloading Luxy from iTunes, users are immediately able to create profiles to highlight what they are looking for in a potential partner, as well as offer information about their interests and even share up to 25 different photos. Users are also able to make recommendations to others about their own friends who may be a good match for someone else. Luxy's members can even engage in fun activities like suggesting ideas for face-to-face meetings with others. According to the app's description on iTunes, Luxy is "the easiest way to meet, chat, date real successful men and attractive women".
About Luxy
OnLuxy.com specializes in helping women and men find the most successful and attractive people for fun, dating and love. For more information, visit their website at OnLuxy.com or download the Luxy application at iTunes.