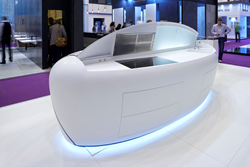 "Without doubt the most innovative stand at the show"
London, United Kingdom (PRWEB UK) 26 September 2014
"Without doubt the most innovative stand at the show" was how one professional kitchen journalist described the LG Hausys exhibit at this year's 100% Design event in London.
The theme of "The Sky is the Limit" featured an amazing futuristic kitchen designed by Belgian Xavier Bonte, from TMA Productions, using the limitless flexibility of solid surface material HI-MACS®.
The feature island centrepiece was a nebulous white shape with intersecting blue lines looking like aircraft contrails reversed out of the cloud. In the front of the curved face were 4 handle-free drawers and when the top opened, via remote control, a fully functional working area was revealed including an induction hob with a ductless extractor hood, two sinks, and a tap that extends with the opening process.
HI-MACS® Lucent, in opal, is used to allow light to shine onto the working area of the island unit, and complements the indented table on the opposite side of the island conceived for casual meals and conversational entertaining.
The wall cabinet area behind the island was concealed by 4 accordion style doors which, when opened, revealed a fridge, dishwasher, steam oven, coffee machine and general high-tech storage units. The accordion doors themselves folded back into the stylized shape of a champagne flute on the one side and the bottle on the other – design genius.
A prestigious endorsement of The Sky is the Limit kitchen came in the form of being included in the website list of the "Design In" Award – an international series of events showcasing the highest standard of design both in London and as far abroad as China.
With this exhibit at 100% Design LG Hausys showed the future by clearly demonstrating the amazing capabilities of HI-MACS® in terms of design horizons without limit.
Designer: Xavier Bonte, TMA Productions, http://www.tma-productions.be
Photographer: Marcus Peel Photography, http://www.marcuspeelphotography.co.uk
Material: HI-MACS® Alpine White, Opal, Mazarin Blue
More information at http://www.himacs.eu