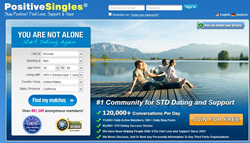 Los Angeles California (PRWEB) September 25, 2014
Statistics drawn from the largest STD dating website PositveSingles.com membership database show that the most common segment of daters is men aged 35 to 55 (inclusive). This group makes up about 35% of the site's total single daters.
PositiveSingles.com is the #1 STD community for people who are living with herpes, hiv, or other STDs to find love, friendship and support. Members on the site are very active. There are over 120,000 conversations per day.
When members create a profile on this herpes dating site, they can choose their relationship status. Choices include single, never married, divorced, married, widowed, in a relationship, divorce pending, and please ask me. Singles who have selected single, never married, divorced or widowed as their relationship status make up 92.4% of the total membership. In addition, profiles include a person's gender and age.
Of all the single members on PositiveSingles.com, males aged 35-55 make up the biggest segment, with about 35.28% of all single members. Females in the same age range make up just 13.9% of the total single members.
Looking at the total population of single people on the std dating site, about 68% of the single members are men, while only about 32% are women. Comparing this to the total US population where 50.8% of people are women, shows that men are more highly represented on this STD dating site.
For men, the biggest age range is ages 35 to 55 (inclusive), with 35.28% of the total singles which include single, never married, divorced or widowed. The younger age range of men, less than 35 years old, has just 25.61%. The older age range, over 55 years old, is the smallest segment for males, with only 7.03%.
For women, the picture is different. The largest age range is for younger women under 35 years old, with 15.64% of the total single people. The middle age range, 35 to 55, has a bit less, with 13.9%. The oldest group, over 55 years old, has just 2.53%.
About PositiveSingles.com
PositiveSingles.com is the premier dating site in the world catering to people living with STDs. The site provides a way for herpes singles to find love, advice, support and companionship. The site has helped people meet herpes singles for 13 years, and reports more than 60,000 success stories of people who have found love and happiness. Members can create an anonymous profile for free, and member information is never disclosed, rented or sold.