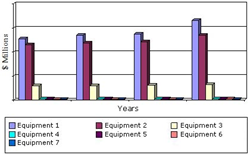 Wellesley, MA (PRWEB) September 24, 2014
BCC Research reveals in its new report, AMBULANCE AND EMERGENCY EQUIPMENT: GLOBAL MARKETS, the global market for ambulance and emergency medical services (EMS) equipment is expected to rise to $6.8 billion by 2018, with a five-year compound annual growth rate (CAGR) of 2.9% from 2013 to 2018. The hypothermia prevention segment is estimated to record the highest CAGR with 6.7%.
The infection control market is expected to show steady growth during the forecast period, increasing from $2.74 billion in 2013 to $3.3 billion in 2018. However, it is the hypothermia prevention segment that is anticipated to record the greatest growth with $23.7 billion in 2013 to $32.8 billion for 2018.
The rise in demand for emergency medical services has led to the noted growth in the ambulance equipment market. This accelerated demand is partly due to the recession, which led to a large number of people losing their health insurance coverage. As a result, many of these individual's health issues escalated into conditions requiring emergency medical services. The other factor is the increase in the aging population and the consequent escalation in the incidence of chronic health issues that require emergency healthcare services. The population of people age 65 and older will continue to rise through 2018 and will impact the growth of this market in future years.
"Extensive research in the field of ambulance and emergency medical services has revealed a specific need in injury control and various emergency health situations," says BCC Research analyst Shalini S. Dewan. "State-of-the-art technological advancements, new product launches and the population's strenuous and fast lifestyles are expected to drive the growth of the market in the foreseeable future."
AMBULANCE AND EMERGENCY EQUIPMENT: GLOBAL MARKETS provides a detailed analysis of the ambulance and emergency medical services equipment industry structure. Projections are estimated for the five-year period from 2013 through 2018. The performance, setbacks and needs of the market are also discussed in this report.
Editors and reporters who wish to speak with the analyst should contact Steven Cumming at steven.cumming(at)bccresearch(dot)com.
About BCC Research
BCC Research publishes market research reports that make organizations worldwide more profitable with intelligence that drives smart business decisions. These reports cover today's major industrial and technology sectors, including emerging markets. For more than 40 years we've helped customers identify new market opportunities with accurate and reliable data and insight, including market sizing, forecasting, industry overviews, and identification of significant trends and key competitors. We partner with analysts who are experts in specific areas of industry and technology, providing unbiased measurements and assessments of global markets. Our clients include the top companies in industries around the world as well as universities, business schools, start-ups, consulting firms and investment companies. BCC Research is a unit of Eli Research LLC. Visit our website at http://www.bccresearch.com. Contact us: (+1) 781-489-7301 (U.S. Eastern time), or email information(at)bccresearch(dot)com.
Data and analysis extracted from this press release must be accompanied by a statement identifying BCC Research LLC, 49-2 Walnut Park, Wellesley, MA 02481, Telephone: (+1) 781-489-7301; Email: editor(at)bccresearch(dot)com as the source and publisher. Thank you.