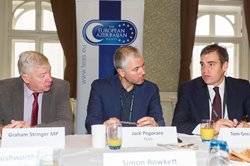 Energy security needs to be at the heart of our energy policy in an unpredictable world.
Manchester, UK (PRWEB UK) 24 September 2014
The role of Azerbaijan in ensuring the future of EU energy security has been highlighted at the annual Labour Party Conference during a breakfast briefing at the Midland Hotel in Manchester for Prospective Parliamentary Candidates (PPCs), organised by The European Azerbaijan Society (TEAS).
The two senior politicians present, Tom Greatrex, Shadow Energy Minister, and Graham Stringer, Energy and Climate Change Committee member, were already well-versed in this vital and complex issue. PPCs are contesting to become MPs at the general election in May 2015, and it is important that they are fully aware of the burgeoning relevance of Azerbaijan to Western Europe. Representatives from Shell and the GMB Union also attended the briefing. The topics covered included the emotive issues of shale gas fracking, renewable energy, the role of interconnectors, nuclear power and the direction of EU policy.
Jack Pegoraro, UK Public Affairs Manager, TEAS, explained the background to current pan-European energy crisis: "We need to understand that nearly half of the UK's electricity is generated from natural gas. UK production is falling rapidly, and has fallen by 30 per cent during the past three years. By 2020, we are going to be importing about 70 per cent of the UK's needs. Already the National Grid is predicting that there will be blackouts this winter as the UK's ageing power stations provide insufficient electricity to meet demand and experience unscheduled shutdowns. The Ukraine situation has placed the EU's energy insecurity in the spotlight. Russia provides about 30 per cent of the EU's gas supply, and its policies demonstrate that diversity of supply is essential. Even though no Russian gas actually reaches the UK, any hike in EU gas prices automatically impacts energy prices in the UK."
The meeting came at a pivotal time in the UK–Azerbaijani relationship. In December 2013, former Foreign Secretary William Hague visited the country to witness the signing of a massive $45bn 2000-mile gas pipeline deal between the Azerbaijani government and the BP-led Shah Deniz Consortium. This will see Azerbaijani Caspian gas from the Shah Deniz II field being piped to an interconnector in Italy, making the proposed Southern Energy Corridor into a reality. This has led former Labour Prime Minister Tony Blair to recently agree to become an advisor for the Shah Deniz Consortium. Development of the Trans-Adriatic Pipeline (TAP) and Trans-Anatolian Pipelines (TANAP) will cross the territory of seven countries.
Tom Greatrex MP, Shadow Minister for Energy Security, acknowledged the crisis saying: "Energy security is a very important subject. It is imperative that we have sufficient gas supplies to respond quickly to changes in demand. Unplanned shutdowns of power stations will result in shortages, and careful management of supply has to be undertaken. There must be more focus on the role of interconnectors and how they can maintain supply levels. Any conflict zone has energy implications, and the Ukraine crisis demonstrates this. One of Labour's proposals is to launch an Energy Security Board to organise an effective government policy with a long-term strategy. Energy security needs to be at the heart of our energy policy in an unpredictable world."
Graham Stringer MP, Member of the Energy and Climate Change Committee, commented: "Security of supply is top of the energy policy agenda in my view, but we are currently failing on this. In the UK, we only have about 2 per cent capacity in the system. If we get a very cold winter, and a couple of power stations drop out, then the lights go out."
Gary Smith, GMB Union said: "80 per cent of the UK heat their homes using gas. It is five times cheaper than electricity. We have to get the gas from somewhere. Energy supply has to be maintained."
Steve Schofield, Deputy Head of UK Government Relations, Shell, remarked: "It is important to get the EU 2030 Policy Framework for Climate and Energy right. In the UK we have diverse supply from Qatar and Norway, to name but two countries. It is important that the EU has a similarly diverse supply."