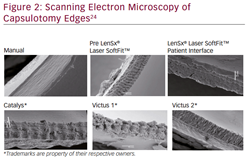 Femtosecond laser technology enables precise incisions in the cornea & minimizes manipulations & energy required to fragment and emulsify the lens.
(PRWEB UK) 26 September 2014
Cataract surgery is one of the most commonly performed surgical procedures worldwide. Between 2000 and 2020, the number of people aged 65 or over is projected to increase from 425 million to 677 million worldwide. This is likely to be accompanied by a corresponding increase in the incidence of cataracts and it has been estimated that by 2020, 32 million cataract surgeries will be performed annually (see Figure 1).
Phacoemulsification, the most commonly performed type of cataract surgery, requires manual creation of an opening in the anterior lens capsule, fragmentation and evacuation of the lens tissue with an ultrasound probe, and implantation of a plastic intraocular lens (IOL) into the remaining capsular bag. Femtosecond laser technology was approved by the US Food and Drug Administration (FDA) in 2010 for use in cataract surgery including the creation of surgical incisions in the cornea, formation of the capsulotomy, and lens fragmentation following initial clinical demonstrations of its efficacy.
Current femtosecond laser technologies use a near infrared femtosecond laser focused to a spot size of less than 6 μm. Femtosecond photodisruption is achieved by generating a plasma in the tissue. This plasma, comprising free electrons and ionized molecules, then expands and causes a shock wave, cavitation, and formation of a bubble, which expands and then collapses, causing tissue separation.
To continue reading this peer-reviewed article in full for free, please go to:
http://www.touchophthalmology.com/articles/femtosecond-laser-assisted-cataract-surgery
NOTE TO EDITORS

touchOPHTHALMOLOGY.com (a division of Touch Medical Media) disseminates highly relevant and timely content contributed by prominent healthcare experts, designed to maintain current awareness and stimulate discussion amongst medical professionals globally. This is achieved in both interactive digital media and print.
The portfolio of peer-reviewed journals, European Ophthalmic Review and US Ophthalmic Review provide concise and digestible review articles and the website provides complementary educational tools including news items, interviews and instructional videos.
The journals and website are designed to keep busy healthcare professionals up-to-date with the latest developments in their field and serve as a key reference resource for the international medical community.
Through this portfolio, Touch Medical Media aims to convey current best practice, to provide continuous education and to inform treatment decisions.