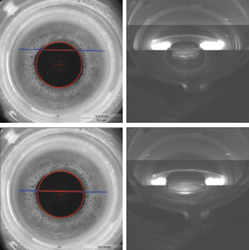 The LENSAR® Laser System's ergonomic design permits flexible functionality in any operating environment. Its low-pressure liquid interface eliminates corneal compression and facilitates accurate and complete capsulotomy construction.
(PRWEB UK) 26 September 2014
Since the introduction of ultrasound phacoemulsification in 1967, cataract surgery has become the most commonly performed outpatient operation in the US. While phacoemulsification has shown to be safe and effective, application of ultrasound power within the eye does carry some risk for ocular injury, such as endothelial cell loss. In addition, the manual method of creating the anterior capsulotomy, which is performed using the continuous curvilinear capsulorhexis (CCC), cannot ensure that the capsulotomy is consistently centered or circular,1–3 thereby affecting the effective lens position (ELP). This is especially significant for multifocal, accommodating and toric intraocular lenses (IOLs) with more complex optical designs.
Recently, there has been increasing interest in the use of femtosecond lasers as an adjunct to ultrasound phacoemulsification in cataract surgery. Clinical studies have demonstrated incremental improvements with femtosecond laser-assisted cataract surgery compared with standard ultrasound.4 Femtosecond lasers deliver ultrashort pulses of infrared energy so that collateral tissue damage is avoided. They cut tissue by photodisruption, that is, vaporization of targeted tissue, generation of cavitation bubbles, and creation of cleavage planes within tissue. As transparent tissues do not absorb the lasers' infrared wavelengths, photodisruption can be focused precisely at a given depth within the anterior segment of the eye.
To continue reading this peer-reviewed article in full for free, please go to:
http://www.touchophthalmology.com/articles/lensar-laser-system-fs-3d-femtosecond-cataract-surgery
NOTE TO EDITORS
-touchOPHTHALMOLOGY.com (a division of Touch Medical Media) disseminates highly relevant and timely content contributed by prominent healthcare experts, designed to maintain current awareness and stimulate discussion amongst medical professionals globally. This is achieved in both interactive digital media and print.
-The portfolio of peer-reviewed journals, European Ophthalmic Review and US Ophthalmic Review provide concise and digestible review articles and the website provides complementary educational tools including news items, interviews and instructional videos.
-The journals and website are designed to keep busy healthcare professionals up-to-date with the latest developments in their field and serve as a key reference resource for the international medical community.
-Through this portfolio, Touch Medical Media aims to convey current best practice, to provide continuous education and to inform treatment decisions.