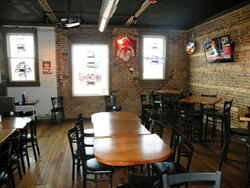 Memphis, TN (PRWEB) September 24, 2014
Restaurant furniture manufacturer and distributor, Affordable Seating, recently helped new sports bar Jack Magoo's in Memphis, Tennessee to a successful grand opening by supplying them with new commercial chairs and bar stools.
Jack Magoo's is a new sports bar located in the Broad Ave. business district in Memphis TN. This two story building is equipped with two full sized bars and twenty-two 55" flat screen TVs to watch all of your favorite sports games. Jack Magoo's offers $10 beer buckets. It also has a jukebox and games such as air hockey or pool. For entertainment they have live bands and Monday night trivia. They have 25 flat screen televisions to watch sports on and 3 pool tables. In addition a full bar there is also a restaurant. They recently opened a new, large outdoor patio where there is live music on the weekends.
The menu at Jack Magoo's is typical pub fare. Appetizers include nachos, cheese balls, tamales, bacon wrapped shrimp and sausages and cheese. Entrees include favorites such as burgers, polish sausage, hot dogs, chicken breast, chicken tenders. They also offer sandwiches such as the club, BLT, Philly cheese steak and chicken sliders. They also serve salads and chili.
He bought Affordable Seating's Metal Cross Back Chair in black frame finish and black vinyl seats. He also bought matching Metal Cross Back Bar Stools. The Metal Cross Back Chairs currently sell for only sell for only $32 with standard options. The Metal Cross Back Bar Stool sells for $47.99. The commercial metal chair and bar stool come with a standard black sandblast frame finish, plastic glides and a padded seat. The frame is available in 5 different finishes. Customers have the choice of a solid wood seat or an American made padded seat made of fabric or vinyl. The wood seat is available in 6 different finishes and for an upholstered seat there are many options to choose from.
"The Metal Cross Back Chairs and Bar Stools are popular choices for restaurants and bars" according to Dave. "They are stylish and versatile enough for any type of establishment. They are also very tough and durable, which makes them a smart buy".
To go with the restaurant chairs and bar stools, the owner also ordered reversible table tops in mahogany and black finish with black t-mold edges. The reversible table tops also come in walnut and brown with brown t-mold edges and are available in many shapes and sizes. Prices for the reversible table tops start at $21. Restaurant Furniture .net also has a wide selection of table bases which are sold separately.
To view Affordable Seating's full selection of restaurant chairs, bar stools, booths, tables and patio furniture visit http://www.affordableseating.net or call a customer service representative at (888) 495-8884.
Jack Magoo's is located at 2583 Broad Ave. in Memphis, TN. They can be contacted at (901) 746-9612.