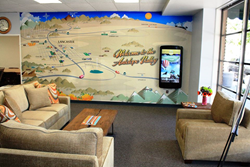 "Tourists don't want to spend hours rifling through hundreds of brochures," says David McCracken, CEO of Livewire Digital.
York, PA (PRWEB) September 25, 2014
Destination Lancaster, a tourism company in Lancaster, California, called on Livewire Digital in York, PA, to revolutionize the way they share information with tourists in their Visitor Center. "Tourists don't want to spend hours rifling through hundreds of brochures," says David McCracken, CEO of Livewire Digital. "They want a one-stop shop to get their information quickly and efficiently, and the less clutter, the better." The new 42" wall-mounted touch screen system in the Lancaster Visitor Center shares information on hundreds of local attractions and businesses, in a fun and interactive way.
The new interactive touch screen system runs Livewire Digital's eConcierge® Content Management System, which was created specifically for the hospitality industry. The eConcierge® application makes it easy for tourists to discover their desired information by breaking the entries down into categories. With a tap on the large touch screen, tourists can browse through sections such as: Dining, Stay, Boulevard, Things to Do, and Signature Events to make finding exactly what they're looking for a breeze.
The Destination Lancaster eConcierge® system takes it a step further by also incorporating an interactive mapping feature. When tourists select their destination, they can display directions and geographical data on the touch screen to make travel simple and stress-free.
The eConcierge® touch screen system is designed to take the place of flyers, brochures, and posters that previously cluttered up the Visitor Center, giving it a more professional and inviting look. The sleek 42" wall-mounted display lends an air of sophistication to the center, encouraging tourists to test out the new system.
"The Livewire Digital system is very user-friendly and has created a better-quality experience for our tourists. With the new system, tourists have a fast and convenient way to discover all the unique things that Lancaster, and the entire region, has to offer ," said Luis Garibay, Destination Lancaster.*
Livewire is the Power to Connect, creating software solutions for kiosks, digital signage, and online and mobile applications, all managed from its eConcierge® Content Management System. Livewire's many turnkey solutions increase revenue and productivity for its customers, while lowering overhead and providing seamless integration. Livewire provides cutting-edge software, hardware consulting, and system integration, bringing the necessary puzzle pieces together to increase customer engagement and create a better end-user experience.