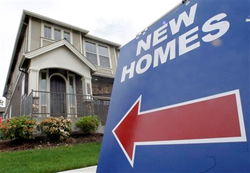 Demand for purchasing a home tends to wane in the fall months
(PRWEB) September 24, 2014
Lenders like Peoples Home Equity were disappointed to see the results of weekly mortgage applications, but remain positive to see new home sales. New home sales will give lenders a barometer if new housing inventory is being purchased.
Weekly mortgage applications fell -4.1% for the week ending on September 19th. This disappointing data point comes after applications rose 7.9% for the week ending on September12th. This rise was a pleasant surprise given that applications had declined -7.2% two week's prior. Of the past 12 weeks, applications have now increased 7 times, with a net decline of -0.13%. Lenders like People Home Equity were hoping to see demand for home loans increase during September in what was a hoped to be a final push higher in home sales before the fall. TradingEconomics.com showed that the forecast for applications was a 0.56% rise for last week; unfortunately lenders were hit with a reality check decline.
On a positive note, monthly new home sales for August will be released very soon this morning. Given that new home sales fell for both June and July, Peoples Home Equity is optimistic that sales will post a rise in August. July new home sales were 412,000, TradingEconomics.com shows the consensus and forecast for August is 430,000 to 439,900, which would be a very healthy rebound, even higher than Junes reading.
Peoples Home Equity reminds prospective mortgage applicants that now is a great time to apply for a home loan just as demand may be fading into the fall months. Demand for purchasing a home tends to wane in the fall months, while this causes a further lack of housing inventory for purchase, this may also cause a subsequent fall in real estate prices and mortgage rates. This cause and effect process is buying opportunity. Readers thinking to purchase a home should at least get pre-approved now before shopping for a home.
Contact a Peoples Home Equity loan officer today at: 262-563-4026