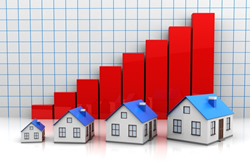 With improvements in the employment sector, consumers may have an easy time keeping up with price gains.
Chicago, IL (PRWEB) September 24, 2014
The Federal Savings Bank was intrigued by the latest House Price Index from the U.S. Federal Housing Finance Agency revealed home prices slightly increased in July.
The HPI is calculated using home price data from mortgages sold or insured by Fannie Mae and Freddie Mac. For July, it showed prices went up 0.1 percent on a seasonally adjusted basis compared to June. Year over year, there was a 4.4 percent rise, putting the index 6.4 percent below its April 2007 peak and at about the same level it was in July 2005.
While there was a month-over-month gain, it fell short of what economists polled by Bloomberg forecasted. They projected a 0.5 percent increase in July. The news source attributed the small growth to the lack of investor activity in the housing market, which The Federal Savings bank noted in a September 22nd release titled "Competition ebbs in the existing-home sales market," by highlighting the recent existing-home sales report.
"There are fewer investors because the incentive isn't there any more," IHS Global Insight Economist Patrick Newport said in an interview, Bloomberg reported. "They buy low and sell high and right now there aren't a lot of properties selling at low prices."
Americans expect home prices to continue growing
Although home prices have been rising at a slower pace, they are still going up, and consumers don't expect price appreciation to stop any time soon.
Per the latest September 5th employment situation summary from the Department of Labor, the job sector improvements anticipated by consumers are already coming to light. In August, 142,000 nonfarm payroll positions were added. Furthermore, the unemployment rate was down 1.1 percent year over year, while the number of unemployed persons declined by 1.7 million. With improvements in the employment sector, consumers may have an easy time keeping up with price gains.
For information about low rate mortgage options and other financing that can help your home buying goals in any price environment, contact The Federal Savings Bank, a veteran owned bank.