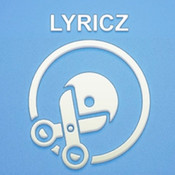 This app is a must have for all music lovers out there. Fun and simple way to share music with your friends and family! -----by Musicfan84231
Maryland, Washington DC. (PRWEB) September 30, 2014
SIMpalm, the top iPhone app development company has developed Lyricz iPhone App for another great social networking music sharing experience. Lyricz LLC officially announces the release of LYRICZ App for iPhone®, iPad®, and iPod touch®. The App allows users to take 5 to 30 second snippets of music from their pre-populated ITunes account. This app also gives users the ability to associate the chosen song's album art or photo of their choice to the snippet of selected music. Users can save and share their creations via social media and/or text messages.
LYRICZ App is designed for iPhone®, iPad®, and iPod touch®. It requires iOS 6.0 or newer & is available in the Apple store also, you can get the app from here https://itunes.apple.com/us/app/lyricz-app/id913801557?mt=8.
LYRICZ App is designed for all music lovers and social media fans! There is a strong interest from today's generation to utilize music and pictures, rather than words to relay messages to their peers. This new app will allow the ability to relay their messages simultaneously with both music and image. With the customized selection of snippet and ability to select their own photo, the APP encourages creativity from the end user. In addition, the app's integration of social media platforms allows a way to broadcast these created "messages" to the public and their peers.
LYRICZ App Features

Main screen featuring LYRICZ App in the Apple store.
Choose a song from your ITunes library; user can keep the pre-selected album cover art or replace with a photo from IPhone's image gallery.
Select a snippet from the chosen song; user will be able to identify specific lyrics of interest when selecting; the selected snippet cannot exceed 30 seconds in the free version. Option to include additional comments
Share your LYRICZ App creation. Once it has been saved, the creation will automatically appear in the IPhone image gallery to easily upload to the user's social media accounts (Twitter, Facebook, Instagram, etc.) or to send via text message.
About SIMpalm:
SIMpalm, a leading iPhone, iPad, mobile application Development Company in USA, was founded in 2009. Over the last 5 years SIMpalm has developed many mobile applications on various platforms- iOS, Android, Blackberry and Windows. Some of its well known apps are tripfriend, CheckIn+, Zoho Invoice, Caught Being Good etc. Besides mobile app development, SIMpalm also offers service for HTML5 website development and cloud based backend for mobile apps on Parse, Amazon AWS, LAMP and Windows Azure. Not only native apps, it builds app and web using cross platform technologies like, Sencha Touch, Jquery, Titanium, Xamarin, Angular JS, Backbone JS and Appprecessor. We develop solutions for Startups, SMEs, Enterprises and Government organization. Some of its major clients include Flextronics USA, Forte Payment Systems, Bed Bath and Beyond, Blue Cross Blue Shield and Cantada.