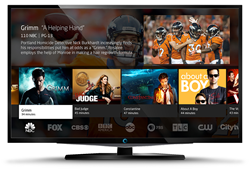 aioTV leverages a service provider's existing infrastructure and provides the tools and functionality to easily package and deliver OTT content and advanced IP services – including 4K
Denver, CO (PRWEB) September 25, 2014
Just after receiving a US patent grant for their technology, aioTV, a global provider of middleware and back-office tools for video service providers, today announced Midcontinent Communications and aioTV will initiate a strategic project using the aioTV PassBox to deliver online services, apps and streaming Internet content along with Midcontinent's existing multi-channel in a single consumer experience.
"We are driving the transformation of TV that leverages the advances in IP streaming," said Mike Earle, aioTV CEO. "Service providers need a unified TV experience to satisfy consumers shift in video consumption across multiple sources of content."
The aioTV platform leverages a service provider's existing infrastructure and provides the tools and functionality to easily package and deliver OTT content and advanced IP services – including 4K unified with existing multi-channel service offerings in an integrated user experience.
"aioTV provides the unique ability to merge multiple sources of content platforms into a single experience that subscribers are familiar with. We see the delivery of IP content and multi-channel in a unified experience from a single HDMI adding strategic value to our core video and Internet business," said Gary Shawd, Vice President of Information Systems at Midcontinent Communications.
Contact Bryan Ollila (bollila(at)aio-tv(dot)com) to get a live demonstration of the aioTV platform.
About aioTV
aioTV is a middleware platform and back-office tool set that enables video service providers to easily aggregate, authenticate and deliver multiple sources of live, on-demand and freely available video content directly to the customer in a single, branded experience to the TV and across connected devices. The company's cloud based management platform provides the ability to design, package and control an offering leveraging existing infrastructure, billing systems and DRMs for a quick, seamless implementation.
About Midcontinent Communications
Midcontinent Communications is the leading provider of data, video and phone services, and cable advertising production in the Upper Midwest, serving over 300,000 customers throughout 342 communities in North Dakota, South Dakota, Minnesota and Wisconsin. From the time we were founded in 1931, Midcontinent's commitment to making the region a great place to live and work is reflected in the mission, values, products and services we bring to every home and business we serve. For more information about Midcontinent, please visit the company's website at midcocomm.com.