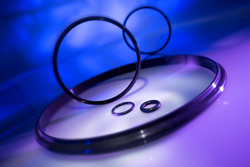 Houston, TX (PRWEB) September 26, 2014
Greene, Tweed announces the launch of Chemraz® 678, a perfluoroelastomer designed for exceptional chemical resistance and best-in-class RGD (Rapid Gas Decompression) resistance in extreme low temperature environments.
The Akron Rubber Development Lab has independently qualified Chemraz 678 to the ISO 23936-2 global standard for RGD resistance. Under the standard's stringent testing conditions, Chemraz 678 passed with the best possible score of "0000"; this score means that after the conclusion of testing, no cracks were observed in the material. A score of "0000" provides the peace of mind required for safe and reliable operations.
Chemraz 678 delivers the same exceptional chemical resistance as our other market-leading compounds along with a wide temperature range of -40°F to 445°F (-40°C to 230°C). This new material also provides excellent compression set and thermal shock resistance, allowing our materials to be utilized in a wide variety of industry applications.
Greene, Tweed leverages expertise in a variety of markets and products to give customers the most innovative solutions to meet performance challenges and reduce total cost of operation. With fully qualified engineering, sales and support personnel located throughout the Americas, Europe and Asia, Greene, Tweed delivers solutions to individual customer applications on a global scope. Greene, Tweed products are sold and distributed worldwide. For additional information, contact Greene, Tweed at +1.215.256.9521 or visit our website at http://www.gtweed.com