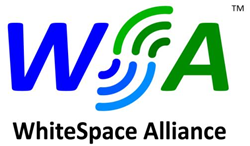 Chelmsford, MA (PRWEB) September 25, 2014
The WhiteSpace Alliance (WSA) ®, a global industry organization enabling sharing of underutilized spectrum, today announced that Hitachi Kokusai Electric Inc. (Hitachi Kokusai) has joined the organization.
Hitachi Kokusai is a global provider of wireless communications and information systems.
The company combines deep expertise in radio systems, wireless communications and video technology to offer solutions for telecommunications infrastructure, disaster management, local area wireless networks, machine-to-machine communications, and TV white space broadband systems.
Earlier this year, Hitachi Kokusai collaborated with Japan's National Institute of Information and Communications Technology (NICT) to deploy the world's first field trial using long-distance broadband communications in the TV white space. The trial demonstrated the feasibility of using emerging wireless standards to deliver cost-efficient broadband services to rural areas and provide flexible communications during disaster relief activities.
"Our partnership with WhiteSpace Alliance is an important component of our mission to provide state-of-the-art communications systems", said Hideyuki Hagiwara, Senior Vice President and Executive Officer, General Manager of the Video & Communication Systems Division, Hitachi Kokusai Electric. "As a member of WSA, we will take an active role in developing and implementing standards for effective deployment of TV whitespace solutions."
"Hitachi Kokusai is a great addition to our rapidly growing ecosystem of established and emerging technology leaders from around the globe", said Dr. Apurva N. Mody, Chairman of WhiteSpace Alliance. "Their demonstrated competencies in radios and communications systems coincide well with the Alliance's commitment to enabling robust, interoperable solutions that make efficient use of available spectrum."
WhiteSpace Alliance, developer of Wi-FAR™ and WSAConnect™ interoperability specifications, has a following of more than 200 major commercial, academic, government and regulatory organizations around the world. WSA member organizations benefit from access to technical specifications that decrease development costs; expanded access to global markets, regulators and government agencies; and ongoing marketing support at no additional cost. Consumers benefit from a multi-vendor, interoperable ecosystem that brings down the overall cost of broadband access. For more information on WhiteSpace Alliance, please visit http://www.WhiteSpaceAlliance.org
About WhiteSpace Alliance
The mission of the Whitespace Alliance (http://www.whitespacealliance.org/) is to promote the development, deployment and use of standards-based products and services as a means of providing broadband capabilities via WhiteSpace spectrum. By promoting the use of standards, the Alliance will enable companies to provide broadband connectivity at reasonable cost. The WSA will also act as an enabler of the emerging white spaces ecosystem by helping to put in place interoperability, conformance, and compliance testing to make sure that our member stakeholders get the needed information & collaborations to succeed both in the market place and with regulatory requirements. Interoperability specifications will allow multiple vendors to enter the market and help to reduce the costs for the consumers. WhiteSpace Alliance promotes the use of IEEE, 3GPP and IETF Standards for use in the WhiteSpaces.
About Hitachi Kokusai Electric
Hitachi Kokusai Electric (http://www.hitachi-kokusai.co.jp/global/) utilizes its long-cultivated wireless communication technology to provide mobile systems for indoor spaces, local area wireless communication systems, wireless broadband systems, and other communication infrastructures.
Moreover, we fuse wireless communication technology with video technology to provide disaster-preventive administration radio systems that protect people's lives against disasters, radio systems for transportation designed for safe and accurate transport control, and various radio communication systems for public/professional use.