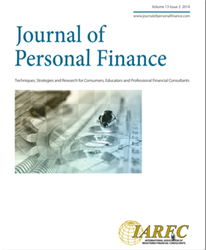 The lead article by Gordon Irlam on connecting retirement asset allocation to age and funded status has already drawn the interest from one Nobel laureate interested in retirement income...co-editor Wade Pfau
Middletown, OH (PRWEB) September 25, 2014
Initiated in 2002, the Journal has grown in scope, acceptance and recognition among practitioners and academicians. Additionally, the Journal welcomes articles from practicing financial professionals and consultants about financial products and services, client relationships, retirement planning, long term care, practice management, and firm operation or efficiencies.
"We've attempted to cover a variety of financial planning topics in this issue including some shorter articles," said co-editor Joe Tomlinson. "They range from traditional survey research studies to articles in newer groundbreaking areas such as optimization techniques for financial planning and neuroscience applications."
This Volume 13, Issue 2 includes contributions from Janet L. Koposko, Douglas A. Hershey Ph.D., Chad Smith Ph.D, Gustavo Barboza Ph.D., Ken Steiner, David N. Swigler, Ph.D., Terrance K Martin Jr. Ph.D., Michael Finke Ph.D., Philip Gibson Ph.D., Michael A Guillemette Ph.D., Russell N. James III Ph.D., and Jeff Larson Ph.D.
Wade Pfau, Ph.D., CFA, RFC®. is a Professor of Retirement Income in the new Ph.D. program for Financial and Retirement Planning at The American College in Bryn Mawr, PA. Joseph Tomlinson FSA, CFP™, RFC® of Financial Planning LLC Greenville, ME is an actuary and financial planner who devotes most of his time to research and writing on investments, financial products, financial planning, retirement planning, and retirement system
"The IARFC is proud to provide this distinguished academic journal as a benefit to our members," explains Ed Morrow, ChFC, RFC® Board Chairman and CEO of the Association. "And we are grateful to Wade and Joe for providing the IARFC with such an excellent publication."
To order a hard copy or electronic version of the Journal, to find out more information or to review article submission guidelines, go to http://www.journalofpersonalfinance.com or contact the editors at jpfeditor@gmail.com.