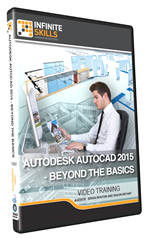 Learn Autodesk AutoCAD 2015 - Beyond the Basics at your own pace
(PRWEB) September 24, 2014
Software training firm Infinite Skills Inc. last week released its "Autodesk AutoCAD 2015 - Beyond the Basics," a collection of courses designed for architects, engineers, designers, and students, covering the essentials of AutoCAD functionality, along with a selection of advanced courses going in-depth with particular features.
Released in March, AutoCAD 2015 features a refreshed user interface designed to improve the design process, along with other time-saving productivity tools, including the new tab page, ribbon galleries, and command preview.
Infinite Skills' "AutoCAD 2015 - Beyond The Basics" provides expert-guided instruction on AutoCAD essentials, covering new features, along with in-depth explanations in areas such as blocks and dynamic blocks, plotting and publishing, workflow efficiency, drawings, references, and space planning.
Learning AutoCAD 2015 - Beyond The Basics Video Training - Streaming
This collection of courses is taught by Infinite Skills' two leading AutoCAD trainers, Brian Benton and Shawn Bryant.
Benton is an engineering technician, CAD Service Provider, technical writer, and AutoCAD instructor with more than 20 years of experience using AutoCAD in multiple design fields. He has served in leadership roles for Autodesk, contributing to software development, and editing the company's newsletter, HotNews.
Bryant is a training consultant with 20 years of hands-on experience as an AutoCAD user in civil and structural engineering practice. He has worked for Autodesk in sales support and training, and is currently an Autodesk Approved Instructor, holding AutoCAD 2013 Certified Professional status.
Benton begins with a chapter covering the new features in the latest version of AutoCAD, looking at the changes in the user interface and other enhancements. He then explains in detail how to work in the AutoCAD interface and workspaces, and how to perform basic operations such as object selection, configure units, navigate the coordinate system, and use the pan and zoom tools.
The essentials course also demonstrates basic drawing and editing techniques, explaining key drawing tools such as polylines and how to draw using various geometric shapes, along with editing tools such as rotate and scale, mirror, fillet and chamfer, and many more. Chapters assimilate the tools and skills covered into final chapter projects.
Bryant covers detailed areas of AutoCAD functionality, explaining the AutoCAD block command, that allows designers to create and save object groups and styles, and extending its functionality to create dynamic blocks.
Other included courses look at construction drawings, providing students with an in-depth understanding of the best practices and associated features for efficiency; working with references, which allow users to overlay multiple files in order to fulfill detail requirements and facilitate collaboration; techniques for efficiency, helping users use key commands and other features to work smarter and faster; along with several other advanced topics.
"In these courses you will learn how to draw and how to draw accurately," Benton says.
"Each course will provide a foundation of skills that you will be able to take with you into any design field."
Free demo videos and a full list of course contents can be found on the "Learning Autodesk AutoCAD 2015 - Beyond The Basics" training page of the Infinite Skills website:
http://www.infiniteskills.com/training/autodesk-autocad-2015-beyond-the-basics.html
Infinite Skills offers its "Learning AutoCAD 2015 - Beyond The Basics Training Collection" either as a DVD or a direct download from the company website at a retail price of $187.95 each. The courses are also available as part of its streaming subscription service at a rate of $25 per month. Though the compatibility of programs varies, all Infinite Skills titles and formats are compatible with both Mac and Windows operating systems, and shipping is available around the globe. Additionally, Infinite Skills tutorials are supported by project files which correspond to examples in the videos.
About Infinite Skills Inc.
A leader in the field of software training, Infinite Skills designs its courses on a task-oriented model, teaching complex skills by providing hands-on examples and guiding users as they carry out essential functions. Infinite Skills offers a wide range of software titles available as DVDs, digital downloads, and in iPad editions. Infinite Skills now offers a subscription service, providing access to all its training content for a monthly fee, keeping with company's aim of delivering professional training to customers anywhere they want to learn.