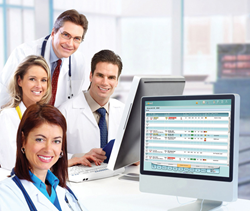 'Because veEDIS does all this in real time in a way that is transparent to the clinician user, nurses are freed up to concentrate on their patients rather than complex CMS regulations,' said Len Strickland, RN, Chief Operations Officer.
Plantation, FL (PRWEB) September 30, 2014
veEDIS Clinical Systems, LLC has developed technology that is unlike any in the industry, an EMR that assists hospitals to capture deserved-revenue through more complete and accurate documentation. This technology is non-interruptive to the clinical user, but helps to ensure the most complete documentation based on the patient's problem and care provided. This exclusive technology transparently captures and calculates appropriate chargeable services so that the clinician can focus on patient care.
Today's healthcare economy has created an environment for hospitals that is both challenging and complicated - from frequently changing coding and revenue cycle management guidelines, to changes in reimbursement levels for services provided, to overall market changes related to the Affordable Care Act. This extremely competitive, complex, and rapidly changing landscape creates challenges for all US hospitals, but particularly rural facilities that may not have the resources to keep pace. More than ever it's imperative that hospitals provide care in the most efficient manner possible, and create complete documentation that supports charge capture for the care and services provided.
veEDIS is an Emergency Department Information System (EDIS) and Electronic Medical Record (EMR) designed to streamline emergency patient care while enhancing quality and patient safety. Multiple new and unique features and built in components of veEDIS ensure that all appropriate charges are accurately generated and captured – in real time with no effort from the clinician, change in workflow, or expert chart review. It's no wonder veEDIS clients have shown that good utilization of veEDIS' ED EMR not only creates a complete and sound medical record, but also enables a facility to capture what was formerly lost revenue.
IV fluid and medication charge calculation has become extremely complex with infusion times, reason for infusion, types and times of medicines all having to be considered for every patient, according to the Centers for Medicare and Medicaid Services guidelines. To address this challenge, veEDIS has developed the IV Calculator feature – which prompts for nursing documentation required to calculate appropriate charges, performs all determinations including infusion durations, – then this proprietary technology calculates the appropriate charge at chart completion before finally sending it, complete with CPT code, to the host system across the interface. Said Len Strickland, RN, Chief Operations Officer, "Because veEDIS does all this in real time in a way that is transparent to the clinician user, nurses are freed up to concentrate on their patients rather than complex CMS regulations."
Additionally, every veEDIS client is assisted with customization of their procedure and supply order selection so that charge capture as allowed under the outpatient prospective payment guidelines. Thus, charges can be accurately captured for procedures and supplies utilized. This list or procedures and supplies remain under control of the client and future customization is simple when new regulatory guidelines are adopted.
Notably, the level of service charge is also calculated "on the fly" with proprietary technology providing for up to the minute accuracy. At time of chart finalization, nurses are reminded if they've forgotten essential documentation, as well as Quality Measure information. Based on the documentation of findings, and services and treatments provided, a facility level charge is calculated and sent to the billing system. This methodology helps to ensure not only a complete chart, but also that the charge submitted will always accurately reflect the final documentation.
Lastly, good quality patient care is also efficient and cost-effective care. With veEDIS' revolutionary intelligent clinical decision support technology, Care Trak, clinicians are provided with an additional tool with which to identify patients at risk, driving up quality, while providing important reports for Risk/Quality Management review.
With real time, effortless calculation of IV fluid and medication charges, level of service charge, procedures and supplies, and tools to drive up quality and reduce risk, the veEDIS ED EMR is successfully helping hospitals to capture deserved-revenue based on services provided.
About veEDIS Clinical Systems, LLC
veEDIS is an Emergency Department Information System designed to adapt to the changing needs of today's hospitals. Ideally suited for small and rural hospitals and healthcare facilities, veEDIS was created by a team of physicians and nurses to use today's smartest technology to deliver exceptional quality patient care and meet safety goals. The veEDIS EHR Module is 2014 Edition compliant and has been certified by an ONC-ACB in accordance with the applicable certification criteria adopted by the Secretary of the U.S. Department of Health and Human Services. This certification does not represent an endorsement by the U.S. Department of Health and Human Services or guarantee the receipt of incentive payments. veEDIS Clinical Systems, LLC, a Florida Limited Liability Company; Date Certified 8.28/2014; Product version: veEDIS v2.1; Certification IR number: 08282014‐2527‐8. Meets EHR Criteria of the following: 170.314 (a) (1‐11, 13, 14, 17); (b)(1, 2, 4, 5); (d)(1‐3, 5‐8); (f)(1); (g)(1, 3, 4). This modular certified product-version may require one-time implementation and monthly ongoing fees. Customized interfaces requested by users for sharing or transmitting of data may require one-time development, implementation, and monthly ongoing fees. Schedule a demonstration now, or visit us at http://www.veEDIS.com.
Contact
To learn more, please contact
Dana Lenetsky, Media Relations Coordinator
1380 North University Drive, Suite 102
Plantation, FL 33322
Office: (954) 344-0498
Fax: (954) 344-2849
dlenetsky(at)veedis(dot)com